Pulse Exclusive: The untold story of Olamide and Maria Okan's relationship as ex-lovers expect 1st child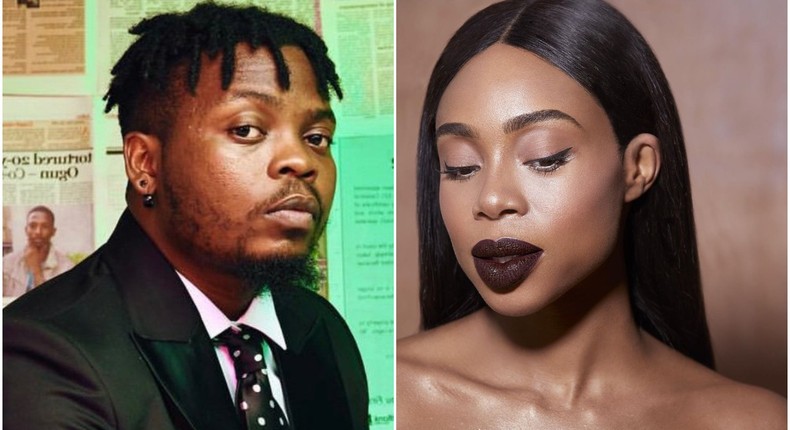 These rumours of Olamide and Maria Okan won't go away anytime soon.
Olamide and Maria Okanrende's short-lived relationship as ex-lovers will produce a child in a few weeks.
Over the last couple of days, rumours have been rife concerning the pregnancy of former BEAT FM on-air-personality and her relationship with the YBNL boss.
Pulse can reliably confirm that Nigerian rapper Olamide is responsible for Maria Okan's pregnancy.
A good friend of Maria confided in Pulse and opened up on how her love affair with Olamide began, ended as well as how they are both ready to co-parent. 
How it all began
Our source revealed that the MTV Shuga actress had entered into a romantic relationship with Olamide with the belief that he was single and separated from his baby mama.
"Olamide told her he was single that's why she began a relationship. They loved each other," the source revealed to Pulse.
Why Maria parted ways with Olamide
The affair between Maria and Olamide wasn't planned to be short-lived.  
However, the love affair began to fade away when Maria found out that the YBNL boss was still with his baby mama and long-time partner.
"They broke up because she found out he was still with his baby mother," Maria's close friend told Pulse.
However, it was too late to turn back the hands of time as Maria had gotten pregnant. "Later she found out she was pregnant."
Pregnancy and co-parenting
Finding out that she was pregnant with Olamide's baby, Maria reached out to him for mutual discussion and agreement.
"They discussed options. He said the decision is hers. She kept it and they planned to co-parent from the beginning," Maria's friend informed.
Maria Okan [Instagram/Maria Okan] Pulse Nigeria
Resignation and relocation to the UK
After discussing with Olamide, Okanrende resigned her appointment with Beat FM and moved to London. This move, her friend said, wasn't solely her decision. "Her parents took her to London because they thought that was the best." 
Unknown to many, Maria had to battle to save her life and that of her pregnancy after relocating to London, the UK in 2019.
Her friend said, "That (relocating to the UK) was a blessing because not long after, she was admitted to hospital with serious dangers to the pregnancy. This has resulted in her pregnancy being labeled a "high-risk pregnancy" by doctors which is why she is still in London as she is monitored every week."
Maria Okan [Instagram/Maria Okan] Pulse Nigeria
Okanrende's friend went on to say Olamide was notified of the development after which he sent money to the pregnant OAP. "He (Olamide) sent money for the baby when she came out of the hospital in March (2019). That is the only time he sent her money - which was to start buying baby things."
Olamide and Maria are looking forward to welcoming their child
Maria's friend explained that the actress and producer won't respond to insults and snide remarks as she needs to focus all her energy on delivering her baby in good health and condition.
"My friend won't speak because she needs to rest before the baby is delivered. She also knows better than to have her baby reading negative things in the future. Therefore she will not respond to insults. We are looking forward to her 1st child and so is the father," she told Pulse.
Olamide rocking his second son, Myles Adedeji [ Instagram/Baddosneh] Pulse Nigeria
Pulse has reached out to Olamide's camp to make a statement concerning this but there was no response till this article was published.
On Tuesday, July 2, 2019, Olamide - with a photo of himself carrying a baby - announced the birth of his second child, Tunrepin Myles Adedeji with his partner of over 5 years, Bukunmi Aisha Suleiman.
In 2015, Olamide and Bukunmi welcomed their first child together, Maximilian Boluwatife Adedeji. Three years after - 2018 to be precise - Olamide hinted at his decision to settle down with Bunkunmi.
JOIN OUR PULSE COMMUNITY!
Recommended articles
Teddy A shares heartwarming details of proposal to Bambam
Odumodu Blvck's 'Dog Eat Dog II' debuts at No. 1 on Apple Music Alternative Chart
Mercy Aigbe offers empowering words, prayers for a new Nigeria
Gen Zs are the biggest streamers of Spotify's Mellow Playlists
AY confronts trolls after accepting national award
Wizkid thrills fans with captivating performance in Afronation Miami
Odumodu Blvck releases 'Dog Eat Dog' remix featuring Santi & Bella Shmurda
Nigerian actor Hawwal Ogungbadero, 29 others set Guinness World Record for longest recording session
Burna Boy & Quavo spotted together in a video shoot