Ex-Tottenham star claims Henry is 'the ultimate solution' for The Red Devils
The ex-Arsenal star has been linked to one of the most coveted coaching jobs in football.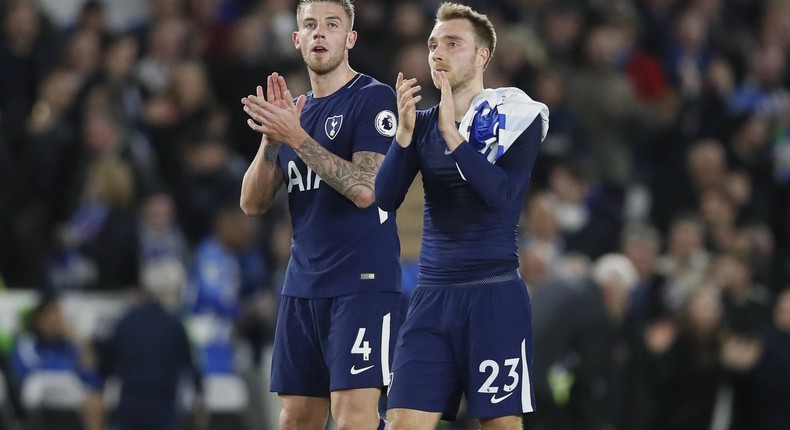 Former Tottenham defender Toby Alderweireld thinks Thierry Henry would make the ideal coach for the Belgian national team.
This position is vacant after Spaniard Roberto Martinez left the role following a disappointing World Cup outing in which Belgium got knocked out in the group stage.
The Royal Belgian FA, the country's football governing body, are evaluating replacements. However, players like Alderwiereld do not want them to look too far, as they believe Henry, who was Martinez's assistant, is perfect for the role.
Alderwiereld wants Henry to be the Belgium coach
The 33-year-old Belgian international, a member of the so-called 'golden generation', and its subsequent failings, believes Henry is the man to shepherd the next generation of Belgian footballers.
"Thierry Henry has won everything you can win in his career," Alderweireld said.
"In addition, Henry knows the team, which is important. I understand that rejuvenation is needed, but you also have to know where we come from.
AFP
"Henry would be the ultimate solution in that regard."
Will Henry become the next Belgium coach?
Prior to becoming the manager of a team in the top division, Henry served as the team's assistant coach for the Belgian national team. He has held this position intermittently since 2016.
If Henry's time as the Arsenal youth coach is to be disregarded, the Belgian national team was his first position in one of these capacities, and he has been an integral member of the team the entire time, winning the players' respect as he imparts his knowledge.
This is probably why the players are open to him getting the main job. However, Henry has had his problems as the main shot-caller, and this will be on the minds of the Royal Belgian FA while they make their decisions.
AFP
Henry was the manager of Ligue 1 club Monaco for only 20 games, with a point-per-match average of 0.95 and several reports of touchline misbehaviour.
He had a slightly longer stint with MLS club Montreal, with 29 games and a 31 per cent win rate, but he left to be closer to his family.
More from category
GVFOOTBALL Youth Football Fund Africa first launch

What not going to Qatar 2022 meant for Nigeria?

Super Eagles stars, Oshoala, others celebrate Orlando Pirates star Olisa Ndah on 25th birthday