'Obasanjo is a nuisance we must endure,' Nobel Laureate says
Nobel Laureate, Professor Wole Soyinka further said that the former president is an as an overgrown child of circumstance.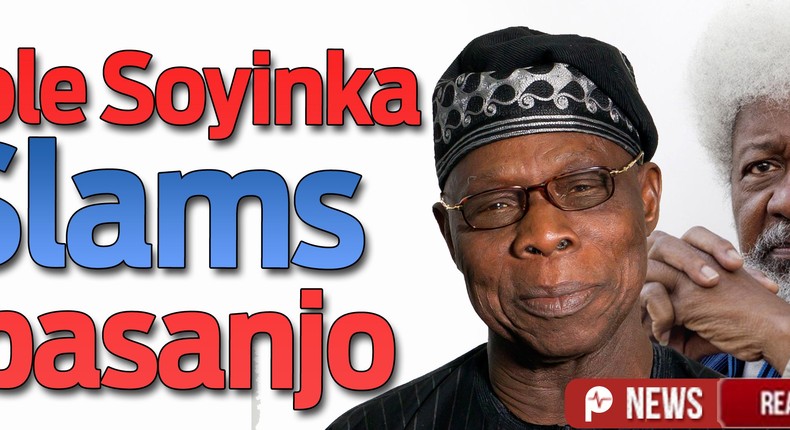 Nobel Laureate, Professor Wole Soyinka has described former president, Olusegun Obasanjo as a nuisance that must be endured.
Soyinka further said that the former president is an as an overgrown child of circumstance.
The renowned playwright made the remarks in his new book, titled "Interventions: Between Defective Memory and the Public Lie – A Personal Odyssey in the Republic of Liars", which was presented in Abeokuta, Ogun State on Saturday, October 24, 2015.
"I brainstormed with him over meals both when he was military Head of State – in Dodan Barracks and in his home, Ota – for some time after he left office and early in Aso Rock at his 'second coming.' Today, it is a different situation. If he offered to host me, I would wait until he had first swallowed a morsel from the same dish," Soyinka said of Obasanjo.
"I had fully attuned myself to the fact that our Owu retiree soldier and prolific author is an infliction that those of us who share the same era and nation space must learn to endure. However, it does appear to me that there is no end to this individual's capacity for infantile mischief, and for needless, mind-boggling provocations, such as his recent 'literary' intrusion on my peace."
"Our author invokes God tirelessly, without provocation, without necessity and without justification, perhaps preemptively, but does he really believe in such an entity? Does our home-bred Double-O-Seven believe in anything outside his own Omnipotence?"
"Could he possibly have mistaken the Christian exhortation – 'Watch and Pray' – for his own private inclination to 'Watch and Prey? This is a seasoned predator on others' achievements. He preys on their names, their characters, their motivations, their true lives; preys on gossip and preys on contributions to collective undertakings – even preys on their identities, substituting his own where possible."
Obasanjo had earlier criticized Soyinka in his autobiography "My Watch" saying that the Nobel Laureate knew nothing about politics and should instead focus on being a wine connoisseur.
See Pulse Photo-News gallery below:
JOIN OUR PULSE COMMUNITY!
Recommended articles
New Ebonyi deputy governor Obila not interested in listening to gossip
New Benue Governor lays foundation for 100 housing units
New Abia governor Alex Otti freezes state's bank accounts
Kyari tells Tinubu fuel queues will soon vanish after subsidy removal chaos
FG owes NNPC ₦2.8 trillion fuel subsidy payment deficit
Ganduje denies seeking appointment from Tinubu
Lawmakers tell citizens to pray for successful fuel subsidy removal
Tribunal admits US court judgment ordering Tinubu's forfeiture of $460,000
Tinubu appoints presidential photographers as he resumes office