Here's why we all need Ex-First Lady's kind of friends
If your friends haven't been pumping millions of dollars into your life, it may just be time to change them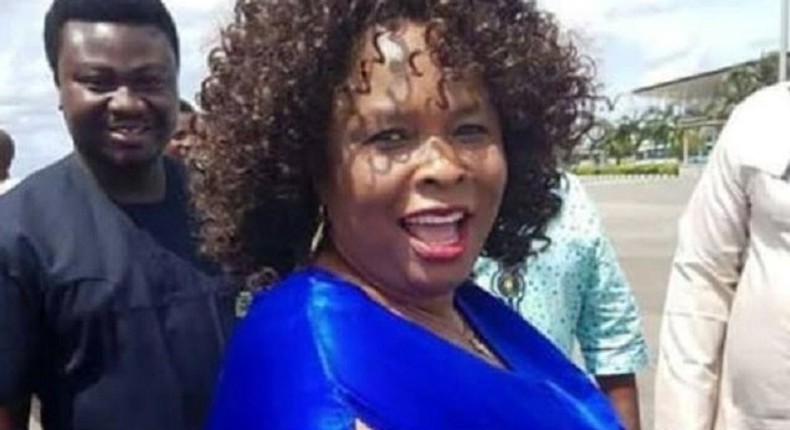 Former First Lady, Dame Patience Faka Jonathan, has got some bad ass, dope friends.
Buddies who made sure she received $15m as gifts in a span of 15 years.
Socio-Economic Rights and Accountability Project (SERAP), is coercing the Attorney General of the Federation, Abubakar Malami, to prosecute Mrs. Jonathan  over allegations that she stole $15m, ostensibly from State coffers while her husband, Goodluck Jonathan, was President.
But Mama Peace (as the former First Lady is fondly called) has said she can explain. Her friends have been looking out for her, she says.
"The funds in question were legitimate gifts from her friends and well-wishers over the last 15 years which she had been saving in order to utilise to upgrade family businesses and concerns which had been somewhat dormant by reasons of the long period of her husband service as a public officer in Nigeria", the former First Lady said in a statement made available to Pulse.
The money came from friends so numerous, Mama Peace can't even put names and faces to most of them.
"The gifts were given in small contributions by several persons, some of whom she cannot even now recall over this period of 15 years...sometimes in as small a gift as N250,000", the statement read.
If you were one of Mrs. Jonathan's friends; donating to her purse unconditionally, rest assured you've been forgotten. You are now history, to put it nicely.
How we hated breaking that to you!
"In order to preserve the value of these funds, which she did not require for any purpose at the time, she changed them into foreign exchange and kept them as cash for a long period in her home safe in Port Harcourt and Abuja", the statement read some more.
Mrs. Jonathan's $15m gift has long been the subject of intense debates and investigations by Law Enforcement. The first reaction from her team was that the money came from legitimate earnings.
Mrs. Jonathan sheds some more light on how the money made it from a safe in her family home to the banks.
"It was when the family home in Otuoke was burnt down by hoodlums under the instigation of political adversaries in 2010 that she began to think about banking these gifts, which had now grown to large sums in the United States dollars.
"In 2010 she therefore summoned one of her husband's domestic aides, Waripamo-Owei Emmanuel Dudafa, to assist her in opening bank accounts into which the funds could be deposited.
"Unknown to her, the said Dudafa, in a bid to be discreet about the owner of the funds, decided to bank the funds in the names of companies owned by him.
"When she discovered this, she was constrained to continue with the names of the companies when she was advised that it did not make any difference as to the ownership of the funds since the director of the company would appoint her as sole signatory to the accounts in question."
An Economic and Financial Crimes Commission (EFCC) operative who spoke to Pulse on the basis of anonymity, said the anti-graft agency isn't sold on Mrs. Jonathan's story just yet.
"Her story doesn't add up. My brother, you went to school na! Does that make any sense to you?
"Recall that we've frozen the accounts opened by fronts for Mrs. Jonathan. We'll make sure the money is returned to State coffers if we eventually establish that the money belongs to the State. If she now says her friends gave her the money in a 15 year span, that's an average of $1m from a friend annually. Investigations are ongoing so I won't disclose so much now", said the EFCC operative who spoke to on the basis of anonymity because he hadn't been authorized to comment on the subject.
Moral of the story: we all need new friends. Like yesterday.
Goodbye, old circle of friends, it was nice hanging out with y'all.
JOIN OUR PULSE COMMUNITY!
Recommended articles
Matawalle alleges sabotage by FG in failed re-election bid
Gov. Badaru directs recruitment of 32 medical doctors
Abia retirees celebrate Otti's victory, clad in all white
Benue PDP suspends officials who suspended national chairman Ayu
Kwankwaso says 2023 presidential election didn't reflect people's will
JAMB, parents make counter-claims as mock examination runs into 'hitches' in Ekiti
300 Christian pilgrims depart for Israel, Jordan
Abia retirees celebrate Otti's victory, clad in all white
Ikpeazu accuses Abia Returning Officer of favouring Labour Party
Manchester United identify Portuguese goal-machine Goncalo Ramosas Osimhen alternative
Giannis Antetokounmpo outshines Jordan Nwora as Bucks set record against Pacers
NPFL Review: Rangers continue to flirt with relegation, 3SC vs Plateau produce another classic
Arsenal reach first Champions League semi-final in 9 years with victory over Bayern