'They claimed some of our attacks,' New militant group says
A new militant group, Niger Delta Searchlight (NDS) has said that some of its attacks on oil installations were claimed by the Niger Delta Avengers (NDA).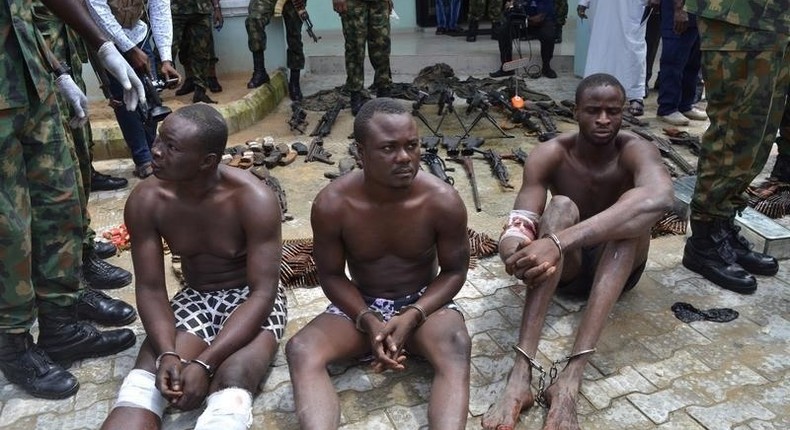 The NDS also vowed not to honour the ceasefire agreement between the NDA and the Federal Government.
The new group made the comments via a statement released by spokesman, General Igbede N. Igbede on Monday, August 29, 2016.
"We will not recognise any ceasefire agreement and we are ready to sustain the struggle until all oil firms in Niger Delta abandon the region. The bombings and destruction of oil installations currently going on in Niger Delta will be nothing compared to what will come, if the Federal Government does not include recognised Niger Delta leaders in the current negotiations."
"It is not true that all the bombings are done by the Niger Delta Avengers, but we have allowed them to claim responsibility to allow for cohesion in the struggle. But it is obvious that they are compromised, especially given their choice of representatives."
Meanwhile, the Avengers have said that President Muhammadu Buhari cannot win the oil war in the Niger Delta.
JOIN OUR PULSE COMMUNITY!
Recommended articles
Pastor Enenche warns witches, wizards coming for Tinubu's inauguration
Senate passes Bill to take CBN Ways and Means advances to FG 15%
Buhari preaches unity, inclusion as Kenyatta delivers inauguration lecture
Buhari to make farewell broadcast to Nigerians on Sunday
Elections are over, it's time to unite Nigerians - Kenyatta tells Tinubu
Our government has no Islamisation agenda - Shettima assures Nigerians
Governor-elect, Alia vows to prioritise Benue children's welfare
Buhari could have achieved more by monitoring appointees – IPAC
My staff worked under intense pressure — Aisha Buhari