LASU steps up effort to produce more student fact-checkers
The university is also set to commence a radio programme that'll review important fact-checked stories on LASU FM.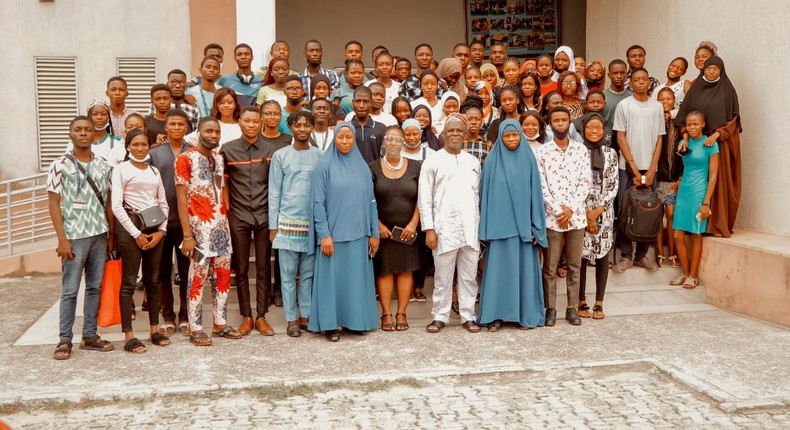 Lagos State University School of Communication is set to establish a fact-checking society that will produce more award-winning student journalists.
This was announced during a one-day training session organised by the university's faculty of communication in conjunction with Dubawa, Nigeria's first fact-checking platform.
The training, which was facilitated by Dr. Ganiyat Tijani-Adenle, a journalism lecturer in the faculty and Postdoctoral fellow at Dubawa, was aimed at equipping undergraduates with practical skills required to report news ethically and the digital tools needed to check information disorder.
It would be recalled that in 2020, a student of the faculty, Oluwaseye Ogunsanya emerged as the first runner-up of the African Checks Award, Student Journalist category.
Educating participants on how to write fact-check stories and digital tools used in checking false information, Dubawa's Audience Engagement Officer, Mr Lateef Sanni, enjoined student journalists to detach emotions from stories and be very skeptical so as to confirm the veracity of the story.
Sanni further listed Yandex, Google Image, YouTube Data View and Tin Eye as some of the digital tools the students could use to verify news stories, and also showed the students how to access the tools and use them to fact-check stories.
The immediate past President of Communication Scholars and Professionals of Nigeria (ACSPN), and former Dean of the faculty, Professor Lai Oso advised student journalists to maintain a critical disposition to whatever they read or see in the media, saying the authenticity of a news story must be confirmed before believing it to be true.
"As a communication student, you are required to play a role of fact-checking, have a critical disposition, and don't be bias, '' he said.
Earlier, the Dean of the Faculty, Prof Yinka Alawode while addressing the students said that the ability to use technology to create false information was becoming a global threat to the safety of citizens and the security of nations.
Alawode, who was represented by Dr. Omolade Atofojomo, noted that lack of training by citizen journalists and the quest to generate advertising by online news organisations using click baits have almost erased the ethics of journalism and the social responsibility of the press.
"As a media training institution, we owe it to provide you with all the theoretical knowledge and practical skills that you require to report news ethically and to provide information literacy to the public. We are thus excited about the contributions our Faculty members and students are making to curb information disorder in Nigeria and we will give them all the support they require to continue to provide this essential service'', he said.
Alawode also announced that LASU Radio 95.7 FM would soon commence a weekly Fact-Checking Report programme that would broadcast information about important fact-checks that had been done by Dubawa the week before.
This according to him would help youth listeners about information disorder and create a more media literate youth community.
JOIN OUR PULSE COMMUNITY!
Recommended articles
BREAKING: Tinubu confirms Gbajabiamila as chief-of staff
Abia lawmaker urges Otti to focus on Aba roads
Ondo House of Assembly speaker denies resignation
Uba Sani appoints 29-year-old Jewel Tok Pam as SSA
FRSC warns motorists against indiscriminate parking as amidst fuel scarcity
I will be Speaker come June 13, says Tajudeen Abbas
Army addresses 39 human rights cases in Borno
Groups kick against Buhari's last-minute appointments in aviation agencies
Atiku's Bwala sends warning to president Tinubu