'We've received N345m cash donations for IDPs in 4 years,' Governor says
He said the state never received any cash donation from international donor for IDPs in the last four years.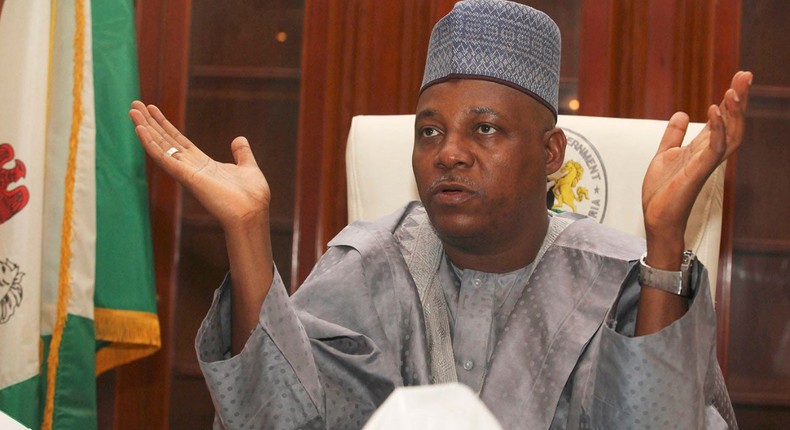 The state governor, Kashim Shettima stated this while speaking with newsmen in Maiduguri, the state capital on Sunday, July 4.
"I want to say that many Nigerians may be shocked to know that a total of N345 million is the overall amount received as cash donation by the state government from May 2011 to date,'' he said.
He explained that the Federal Government during the administration of President Goodluck Jonathan donated N200 million in four years.
"Lagos State Government gave N50 million in October, 2015, Edo donated N25 million in 2013, Kano gave us N20 million in 2013 and Adamawa donated N20 million in 2013.
"Ekiti donated N10 million in 2013, Osun and Kaduna State gave N10million and N5million respectively in 2013 while Unity Bank Plc. donated N5 million.
"There was a woman who prefers her name not to be mentioned; she donated N100, 000 cash," Shettima said.
He said that the state was spending N600 million every month to cater for the IDPs.
He also said that all other interventions had been in kind through donation of food items or medical supplies, which included donation of 1,200 bags of rice by Kebbi.
According to him Ebonyi donates 5,000 bags of rice, Taraba; three trucks of highland tea and Gombe; six trucks of assorted food items.
He said that were many other groups who visited and donated food items in the last five years but certainly not cash to Borno Government.
"We have received tremendous support from international community but no foreign country or any international partner within or outside the UN and major world donors gave any cash to our administration from 2011 to date for the IDPs," the Governor said.
He noted that the World Food Programme also made intervention of food and recently they were doing conditional cash transfers which was being handled by officials of the organisation.
JOIN OUR PULSE COMMUNITY!
Recommended articles
Court upholds Iyorchia Ayu's suspension from PDP
BREAKING: Tinubu confirms Gbajabiamila as chief-of staff
Abia lawmaker urges Otti to focus on Aba roads
Ondo House of Assembly speaker denies resignation
Uba Sani appoints 29-year-old Jewel Tok Pam as SSA
FRSC warns motorists against indiscriminate parking as amidst fuel scarcity
I will be Speaker come June 13, says Tajudeen Abbas
Army addresses 39 human rights cases in Borno
Groups kick against Buhari's last-minute appointments in aviation agencies