Obanikoro, Dasuki did not fund my election – Governor says
The Governor said he also raised funds for his election from the sale of his campaign souvenirs.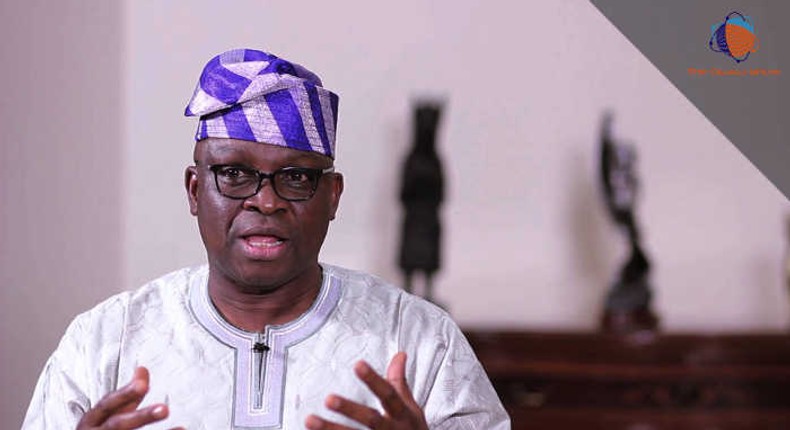 The Ekiti state Governor,
He also said  "I have no financial transaction whatsoever with the Office of the National Security Adviser (ONSA) under Col Sambo Dasuki (rtd) and former Minister of State for Defence, Senator Musiliu Obanikoro either by cash, cheque or electronic transfer."
This is following allegations levelled against him that he received funds connected to the arms purchase scandal, from Dasuki.
Fayose, in a statement signed by his Chief Press Secretary, Idowu Adelusi, said  "it is on record that the President has visited USA three times and his wife did not travel with him. Equally, she ought to have visited USA last year September to chair a United Nation programme but she sent wife of the Senate President, Mrs Toyin Saraki to represent her.
"The management of Zenith Bank, which majorly funded my election, called me to a meeting where I was assured that fund will be provided for my election. I was asked to nominate a trusted ally to be relating with and I nominated Mr Abiodun Agbele.
"All the payments into Abiodun Agbele's account domiciled in Zenith Bank were directly from Zenith Bank. In actual fact, the account was opened by Zenith Bank hurriedly at that time and Abiodun Agbele's identity card which ought to have been collected before the account was opened was only collected last week in the bank's desperation to perfect the account obviously after submitting to the intimidation and harassment of the EFCC.
"Most of the funds posted into Agbele's account were through the Ibadan, Akure and Lagos branches of the Zenith Bank and sometimes; they brought cash.
"Assuming but not conceding that cash moved from Lagos to Akure as being claimed by the EFCC in its usual manner of media trial, was meant for my election in Ekiti, why was the cash not moved to Ado Ekiti branch of Zenith Bank or the cash handed to me directly? Why was it deposited into Zenith Bank, Akure and did the bank make any report on the transaction to the appropriate authorities? Why did the bank send its bullion van to move the money from Akure Airport to their Akure branch if it was illegal money?
"I must say it categorically that I don't have any link financially with Obanikoro and I know as a fact that he (Obanikoro) has not; and cannot mention my name, as beneficiary of whatever money any company in which he has interest could have gotten from the ONSA if truly.
Obanikoro collected money from the ONSA as being claimed by the EFCC.
"Therefore, bringing Obanikoro and his son's narrative or that the Zenith Bank is telling different stories, having been blackmailed and coerced into submission by the EFCC is a joke that will not fly.
"I wish to state further that if it becomes evidently clear that those who willingly provided money for my election can no longer stand by what they did, may be because of threat from the EFCC, I will not hesitate to name names."
Fayose also alleged that the first lady of Nigeria, Aisha Buhari was involved in the Halliburton scandal.
JOIN OUR PULSE COMMUNITY!
Recommended articles
Cally Air expands as Otu inaugurates 3 new Boeing 737 for Calabar Carnival
Labour Party distances itself from INEC's election materials inspection in Imo
Lagos State to prosecute residents blocking streets for parties, social events
Uba Sani clinches 2023 NITMA-digital governor of the year award
TY Danjuma builds multi-million naira medical centre in Enugu State
FG promises Abia a repaired Aba – Port Harcourt expressway before Christmas
FG frees 37 inmates to ease congestion in Rivers State prisons
Nigerian entrepreneur Ikpeme Neto wins 2023 Africa's Business Heroes competition
My problem with Obaseki started because I congratulated Oshiomhole  - Shaibu
Thiago Silva recalls TB fright ahead of Chelsea debut
Brazil vs Argentina: Bloody scenes at the Maracana as Brazilian police and Argentine fans clash
Arda Turan: Ex-Atletico star in hot tears after losing $13 million to 'yahoo yahoo'
Global Soccer Award: Osimhen to battle Messi and Ronaldo
Lionel Messi and Scaloni's Argentina relationship set to end