'Mr Fix it' needs to shut the hell up
Tony Anenih belongs to the generation of Nigerians who failed their country. We won't be needing his advice in the future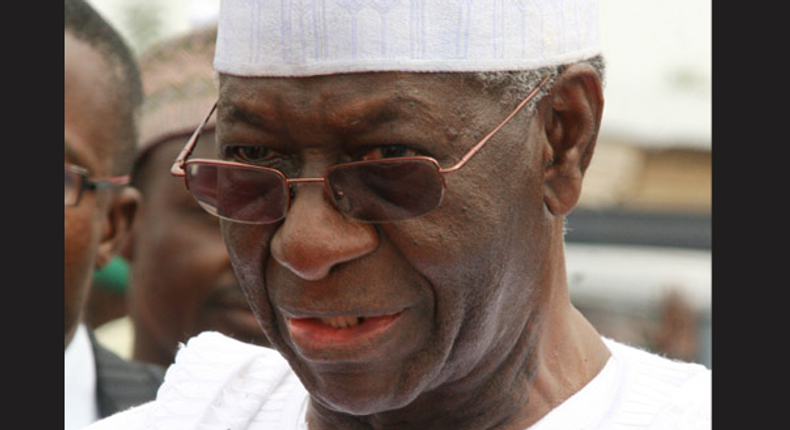 Former Chairman of the PDP Board of Trustees, Tony Anenih, has a story to tell.
In a new book he titled 'My Life and Nigerian Politics', Anenih tells us of how Buhari threw him in jail in the '80s, how he prevented Atiku from succeeding Obasanjo, how he advised late Chief MKO Abiola against declaring himself President and blah, blah, blah.
"I am persuaded that I have no more ambition nor any point to prove in politics. I am, therefore, glad to declare that, from today, I shall be withdrawing from active partisan politics.
"I shall, however, continue to avail the country of my experience, give suggestions and offer advice, as a statesman."
The truth is that we don't care what Anenih does or doesn't do with his life hereafter.
And no, we won't be needing his 'experience, suggestions and advice' as we seek a better nation. We can point him where to shove those.
As for Anenih granting himself the title of a statesman, everyone wears that toga these days and the word has been so abused like we do everything else around here.
Okay, let's even concede that Anenih is a statesman. But he isn't a very decent one. He isn't a role model kinda statesman. He's certainly no one you want the kids to take after.
At 83 years of age, Anenih represents all that is wrong with Nigerian politics and governance.
As Minister of Works, Anenih had nothing to show for the billions of Naira in budgetary allocation funneled to his office. The roads around the country were in such deplorable states soon after he left the Ministry, a certain Diezani Alison-Madueke who visited a stretch of the Lagos-Benin expressway dressed in overalls in 2007, devolved in a sea of crocodile tears.
Anenih earned the 'Mr Fix it' moniker because he helped rig all sorts of elections for the PDP. He was an expert in turning the rules on their head.
Only recently, Anenih was named as a beneficiary of the Dasuki loot--dispensing monies meant to procure arms, to political cronies and PDP faithful.
Anenih was the archetypal greedy Nigerian politician--the one whose belly is his god.
For a long spell, Anenih was the de facto Governor of Edo State--picking and sacking Governors in that State as he pleased, until a certain Adams Oshiomhole ended his rigging streak.
He was the powerful godfather in Nigerian politics who threw the rule books out of the window time and again with reckless abandon.
Anenih was the symbol of money and crude politics in Nigeria.
He is only retiring from partisan politics because his party lost out at the center last year and because back in Edo where he once decided which Igbinedion looted the treasury per time, power has since changed hands.
Anenih is all that is wrong with the brand of 'amala' politics the PDP became infamous for.
It is the norm for politicians to pen hagiographies as books in a bid to rewrite their place in history in Nigeria, but we should always remind them of their rightful place in the annals when they do.
Anenih shouldn't be anyone's idea of a statesman or political role model.
"I therefore want to urge all Nigerians to persevere and hope for a better tomorrow", Anenih said. It was the closest he came to admitting that his generation failed Nigerians and woefully so.
We certainly won't be needing Anenih's suggestions and advice as he heads into the midnight.
JOIN OUR PULSE COMMUNITY!
Recommended articles
No personal issue with Tinubu, willing to collaborate – Bode George
Online publishers forum sets agenda for Tinubu administration
Spain becomes first country in Europe to allow menstrual leave
Igbo group asks Tinubu to appoint young people, retain performing appointees
Online publishers forum sets agenda for Tinubu administration
Subsidy Removal: Kano gov begs petrol marketers to revert to old price
Ohanaeze Ndigbo vows to rebuild, transform Igboland
Subsidy: Tinubu to get one refinery working before December - Kyari
Gov Mbah cancels sit-at-home in Enugu, begs Tinubu to release Nnamdi Kanu