"Dealing with a break up"
This is an exclusive blog post by female Nigerian relationship coach, Emife. "...It feels like the world is coming to an end an for you, it kinda is. As much as I would love to tell you to be "strong and be of good cheer", I can't because that will not be fair..."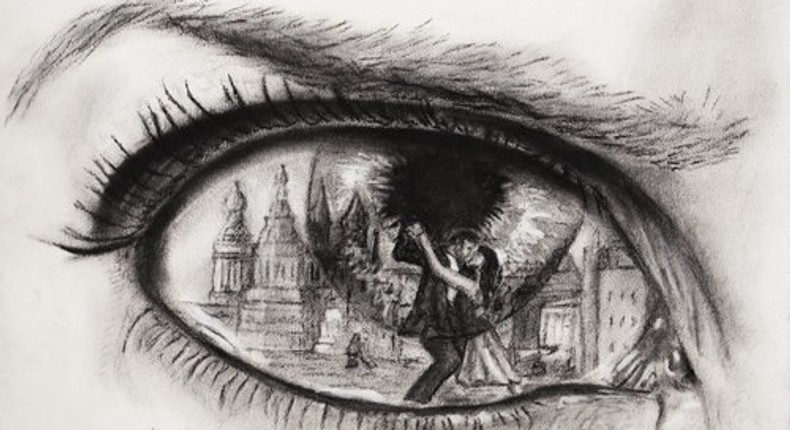 Today we talk on something every girl has been through at least once in her life time. We all know this process. You feel like you can't breathe, there is this unbelievably sinking feeling in bottom of your stomach with a heaviness you can't seem to shake off. You cry till you are genuinely exhausted. You want to scream but you can't find the space to do it since half the world never really knows what is going on. You feel like you have been gutted... "How could he do this?" "How could I have been so stupid?" "I can't believe we are here" "i can't believe this is over?"
I know how you feel. Nothing feels harder than this right now. It feels like the world is coming to an end an for you, it kinda is. As much as I would love to tell you to be "strong and be of good cheer", I can't because that will not be fair. So read this next few words very carefully...
GO ON AND CRY! Cry all you want baby, you have been hurt and no one has the right to rob you of expressing hoe hurt you feel. Shut that silly little voice in your head telling you to pretend that everything i sallright. Throw a fit, cause a scene, throw a shoe... However you choose to express this is your business, but just let it out.
Breathe... Breathe and breathe again. There is no rush and don't mind  the silly people saying that there is supposed to be a time frame to grieve for a relationship based on how much time you spent with the person. You take your time because more damage can be done if you move on without fully closing the door on the last heart break.
The only thing I will ask of you is that when you have had enough of the grieving you will wipe your tears, get up, hold your head up high, and move on with all the grace in the world. Don't let this heartbreak define you. Don't let it shut you down for the next few years. Don't let the bad experience ruin the potential blliss coming your way. See, I know friends are very quick to try and console you by saying stuff like "you will find someone better". hat can be one of the most annoying speeches but the honest to God truth is that they are right.
A few months ago, I went through a very bad and experience with a guy who was in between another girl and I. Bla Bla Bla... Drama followed and I decided I wanted nothing to do with him anymore. I walked away with a broken heart. I later found out he had started to date this girl officially even after all the drama and that broke my heart even more. When the tears and the heaviness came, I couldn't understand how someone I trusted would do that to me and I didn't think there was anyway out of this disappointment for me.
I was done... broken... alone and I didn't know how things were going to work out. After a while, I woke up one morning and realized I was actually ridiculously bored of being sad and heart broken so I went back to being my happy go luck self. Within weeks I was back on the dating scene, meeting ridiculously high value men, better looking men, men who were genuine and very caring. Within weeks, I was being pampered beyond belief and I was loving every minute of it!
I know it sounds to impossible to achieve at te moment but trust me.... it is. Chin up buttercup, you will smile again.
JOIN OUR PULSE COMMUNITY!
Recommended articles
Anticipated Akada children's book festival returns for its 5th edition
Unforgettable Night of Fun & Smirnoff: Lagos soars with epic BBN fans party
5 things women put on that men find instantly attractive
5 bad habits to drop if you don't want to look older than your age
If you feel insecure about your boobs, read this
The Macallan exclusively launches Double Cask 30 Years Old in Abuja
How to turn down sexual advances from your partner
The Macallan Sherry Oak 25 & 30 YO unveiled in Nigeria
Delusion might be the solution: Study reveals negative thoughts are better suppressed
The legend behind why cassava makes us very sleepy
Why guests had to squeeze between 2 naked models to enter an art show
How to give your pork this popular South American drink flavour
Super Falcons' Michelle Alozie drops football hot take
Kane defends Harry 'One of the best defenders in history' Maguire, calls for end to scapegoating
Provedel: 4 goalkeepers who have scored in the Champions League including Vincent Enyeama
Andre Onana: Critics of the Manchester United goalkeeper are missing the bigger picture
100 not out: Lewandowski moves closer to Messi and Ronaldo with century of European goals
Is Victor Osimhen in for a troubled season under Rudi Garcia?
Pep Guardiola laughs off Man Utd's title challenge
Braga vs Napoli: Victor Osimhen aiming to break Obafemi Martins' 13-year-old UCL record
Victor Boniface girlfriend: 8 Interesting things to know about Rikke Hermine