How music can transform a bland s*xual experience into an enjoyable one
Here's how music can turn bland sex to great sex.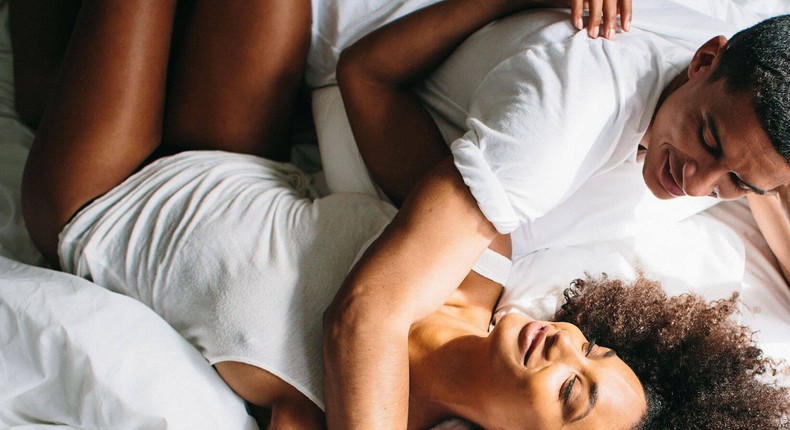 You need to create a playlist and listen to music during coitus.
Why is music so important during intercourse? Music has a positive impact on pleasure, connection, and the limbic system of the brain responsible for emotions and behaviour.
When making love to your partner while music is playing, dopamine will flow, resulting in the following advantages.
Music removes inhibitions, relaxes you and makes you open to new ideas
Not everyone is calm when making love, they may be battling intrusive thoughts and insecurities. Imagine wondering if the gas is off, if the children are sleeping or if your stomach is fat. The louder the music, the easier it will be to drown these thoughts out.
There is a freeing and impulsive feeling when listening to music. In other words, music can eliminate factors that interfere with sexual activity.
You and your partner can be more spontaneous and open to new things, which helps boost the sexual experience because you can be more detached.
Music sets a romantic mood, which can help you handle stress, a lot of thoughts, physical tension, awkwardness and embarrassment.
Music can deepen the connection
Listening to music during sex can make you and your partner connect deeper on an emotional and physical level.
Music has a unique ability to evoke strong emotions in people, particularly love songs and melodious ballads which can create a profound bond between two people.
When we listen to these types of songs with our partners, it can deepen our connection and create an intimate experience that enhances our sex life.
Improves flexibility
The rhythm of music has the power to influence the way we move and even our sexual posture. If you felt awkward previously, music helps. You might find yourself moving to the rhythm of the beat and that can make it more adventurous and flexible subconsciously.
JOIN OUR PULSE COMMUNITY!
Recommended articles
5 unique wedding food traditions from around the world
FreshYo made 10 fresh millionaires in the Mega Millions Promo!
Let your skin glow, this beauty month!
'How to summon a demon' and 9 other strange questions people ask Google
5 biggest culture shocks from around the world
3 BY 4 Gourmet celebrates Africa's culture with Street Food Celebration
Sleep paralysis: Caused by witches or a natural occurrence?
Here's all you need to know about Kegel exercises
Irish Board launches €1m Spirits campaign in Nigeria
5 proven ways to deal with disappointment and move on from it
itel's Love Always on CSR initiative enriches education in Nigeria
Ralph Lauren fragrances unveils CKay as face of the world of Polo Franchise
AFCON 2027: Algeria hands Nigeria a major boost
TikTok wahala: Osimhen deletes Napoli pictures from Instagram
Wilfred Ndidi: Style Essentials inspired by the Leicester City's Nigerian midfield maestro
TikTok trolling: Osimhen set to sue Napoli for serious damage
Manchester United senior players beg Sancho to apologise to Ten Hag
Ukrainian club copy Nigeria's Super Eagles jersey
Victor Osimhen dodges fine for substitution bust up
Mikel Obi: Super Eagles legend branded 'fine boy no pimple' in Dubai
Give us Mourinho! Chelsea fans beg for 'Special One' after latest defeat