How Akara became a sacrifice to Brazilian gods
The delicious snack, Akara isn't just a good Saturday breakfast, it's also a sacrifice for gods.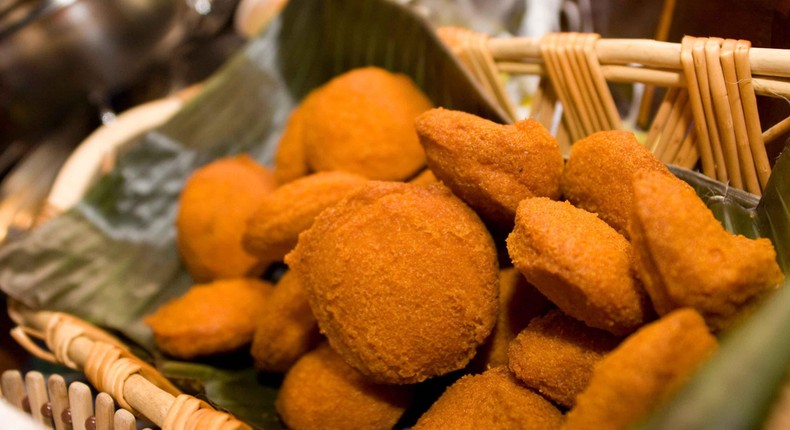 Akara is well known in Nigeria, it is the classic Nigerian fritter made from bean flour.
It's perfect for breakfast on a Saturday, especially when combined with pap. While Akara might be just a way to satisfy hunger for the Nigerian folks, it is another ball game in Brazil as it is a food sacrificed to gods.
Wondering how this came to be?
Well, during the period of the trans-atlantic slave trade, lots of Africans were transported to other continents. But aside from the people being transported, their food and other aspects of their lifestyle also migrated with them to a new land.
In Brazil, some Yoruba women who were slaves at the time, would, as part of slave resistance, start selling street food to earn money so they could break away from being slaves. One major street food that was sold at that time was Akara.
These women would sell Akara on the streets, give a portion of their earnings to their masters and keep a portion for themselves. A version of this story says these Yoruba women will call out to potential buyers with "O acará jé ecó olailai ô," and soon the name of this popular street food changed from Akara to acarajé.
Acarajé grew to become a popular street food in Bahia and it is prepared just as the Nigerian Akara is made - using black-eyed peas, salt, pepper, and onions, blended, mixed and deep fried. However, for acarajé, the fritter is split open, stuffed with shrimp, and topped with vatapá or caruru and often served with a fresh salad.
Pulse Nigeria
Today, acarajé is still sold in Brazil by the Baianas, these are the descendants of slave women who sold Akara many years ago. They have actually taken this a step further as they are popularly seen wearing the traditional costume of their ancestors while selling acarajé.
Apart from it being a street food, Acarajé is regarded as a sacrificial food in the Afro-Brazilian religion of Candomblé and those who prepare it, most often practise the religion, wearing white to display their affiliation. For those who practise this religion, acarajé is also given as an offering to the Candomblé saints and gods during religious festivals.
JOIN OUR PULSE COMMUNITY!
Recommended articles
From Waves to Weaves: 10×10 storms hair industry with a 9-day market activation in Lagos
This week's best celebrity pictures on Instagram
20 ways people experience unexpected orgasms
Everything you missed at the #TheMeistersExpression Concert in Ibadan
In this Ugandan tribe, the bride's aunt has s*x with the groom to test his sexual prowess
Skinny shaming: 5 things you should never say to a slim person
The importance of boundaries in relationships: Nurturing love and respect
Trace to set the African music scene ablaze with first Trace Awards & Festival in Kigali
Study shows men have been peeing wrong; they ought to sit and not stand
Denola Grey is one of the new faces of Fenty Beauty
How to survive the rising cost of petrol and transport in Nigeria
7 incredible health benefits of bitter kola