Things you should absolutely not do while at Python temple Ouidah
Did you really go to Benin Republic if you didn't visit the Python temple in Ouidah?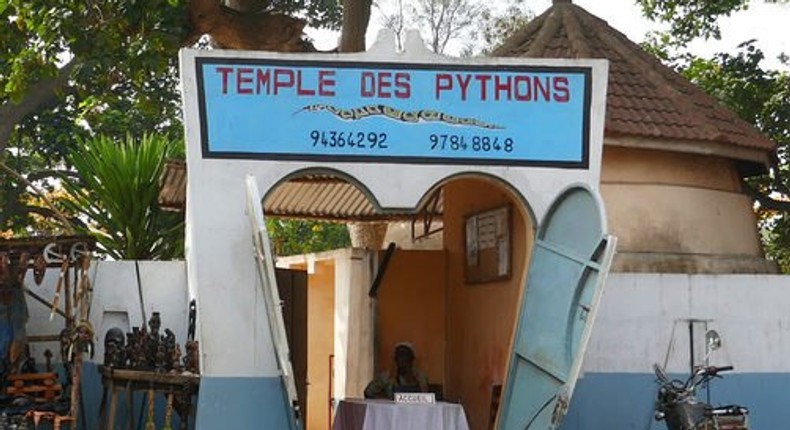 Being one of the top tourist attractions for
Ouidah is one of the towns in Benin Republic. In this town, pythons aren't feared but rather reverred and worshiped. While Porto-novo is regarded as the country's economic capital, Ouidah is recognised as the country's spiritual capital.
This temple is sacred with different sections — some accessible to public and some not. It also has a small room of twelve square meters that houses 50 adult royal pythons.
Visiting the temple is very common for tourists as it is along the "Route Des Esclaves" or "Slave Route" and close to the Door Of No Return. However, if you are visiting, obey all these rules.
1. Do not be mentally unprepared
You are going to see (and probably touch) A LOT OF SNAKES, so it's good to be mentally prepared for that. The snakes do not bite so do not be scared. Also, be prepared financially as there's a gatefee and lots of artefacts to be bought at the temple.
ece-auto-gen
At monthly intervals, the snakes are released into the town to go and feed. They only feed on animals and are harmless to humans. However, IT IS COMPLETELY FORBIDDEN TO KILL A PYTHON IN OUIDAH. If you do, you have to bring the body back to the temple for a series of cleansing ceremonies to be performed and the burial of the python in the temple graveyard. If you leave without these rites, it is said that something bad will happen to you.
3. Do not touch/enter the shrines
ece-auto-gen
The shrine in the temple is hundreds of years old and is only accessible to the priest and devotees (the initiated).
4. Do not enter the graveyard
Entering the graveyard is completely forbidden for visitors. Only devotees and priests are allowed.
5. Don't let religious bias cloud your mind
ece-auto-gen
The Python temple is not a do or die affair. It's completely harmless as the people of Ouidah (and generally Benin Republic) do not see Voodoo as evil. According to the temple guides, if you harm a python and claim religion or non-belief as your reason for avoiding the proper rites, something bad will happen to you.
JOIN OUR PULSE COMMUNITY!
Recommended articles
This week's best celebrity pictures on Instagram
20 ways people experience unexpected orgasms
Everything you missed at the #TheMeistersExpression Concert in Ibadan
In this Ugandan tribe, the bride's aunt has s*x with the groom to test his sexual prowess
Skinny shaming: 5 things you should never say to a slim person
The importance of boundaries in relationships: Nurturing love and respect
Trace to set the African music scene ablaze with first Trace Awards & Festival in Kigali
Study shows men have been peeing wrong; they ought to sit and not stand
Denola Grey is one of the new faces of Fenty Beauty
How to survive the rising cost of petrol and transport in Nigeria
7 incredible health benefits of bitter kola
5 most fashionable plus-size celebs in Nigeria