4 things you should not do when you encounter a masquerade
In Nigeria, masquerades come out during festive periods, ceremonies and rituals, and for people who aren't used to seeing them, the experience can go sour quickly.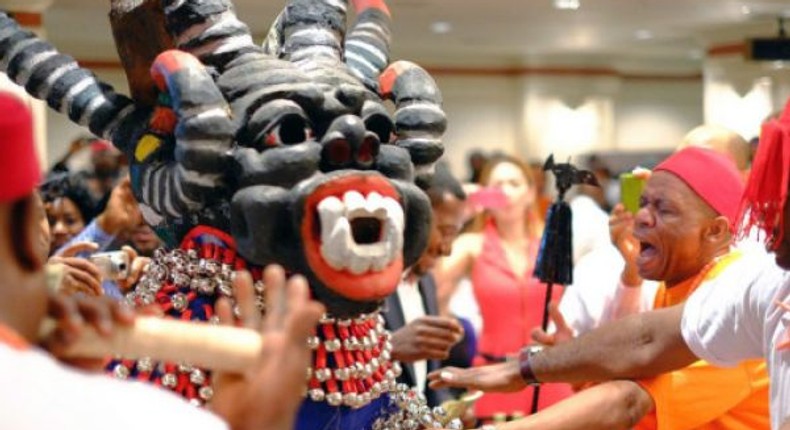 Masquerades are very important figures in Nigerian festivities.
Many cultures believe that they represent the ancestors while some believe they are gods. Whatever the case, they are believed to be mystical and hold related powers, hence should be respected.
Though masquerades are hardly seen except for very important events, such as special religious festivities or a funeral of a great person, they storm the streets during December, most especially in villages. These types of masquerades aren't exactly the revered ones, but are young men with acrobatic and dance skills in masks who take advantage of the already established reverence that comes with masquerades to go about chasing and flogging passersby.
Here are some of the things you shouldn't do when you meet one.
As a passerby, resident or traveller, you may encounter masquerades who would accost you with their whips and canes, trying to get a rise out of you. This is the whole bane of the encounter because if you show fear, they will take advantage of that to harass you into doing what they want.
2. Don't feel forced to give money
Ugoagadauya
Once you show fear, the masquerades will hold and scare you till you give them some money. They can go to the extent of flogging you. Be polite but firm, and let them know that you will not take any disrespect. If you feel like giving them money though, that's also fine.
legit
If you run, they will chase you and flog you, and you will just end up being part of the whole show. Stand your ground.
4. Don't take pictures without permission
Aljazeera
People everywhere get fussy when you take their pictures without permission, so imagine a masquerade with a whip. If you want to take pictures with or of them, you would need to ask politely and probably have to give them some money for appeasement. However, you can try to sneak a picture or two if you know they aren't looking.
JOIN OUR PULSE COMMUNITY!
Recommended articles
Here's why sleeping with your phone in bed can affect your health
10 signs your mother-in-law is jealous of you and how to deal with her
10 slangs only a Nigerian can understand [Pulse List]
5 funniest and most educative replies to over-flogged relationship issues on Twitter
Belly Fat: 5 natural remedies to help you get rid of it
Make-up products you should keep in the fridge
5 interesting health benefits of Sago worms
5 things you probably didn't know about Buchi Emecheta, the author of 'The Joys of Motherhood'
5 things to note while planning a romantic getaway