Top 5 celebrity mommy and me pictures
Here are some celebrity moms who have managed to pull off an excellent mommy and me photoshoot.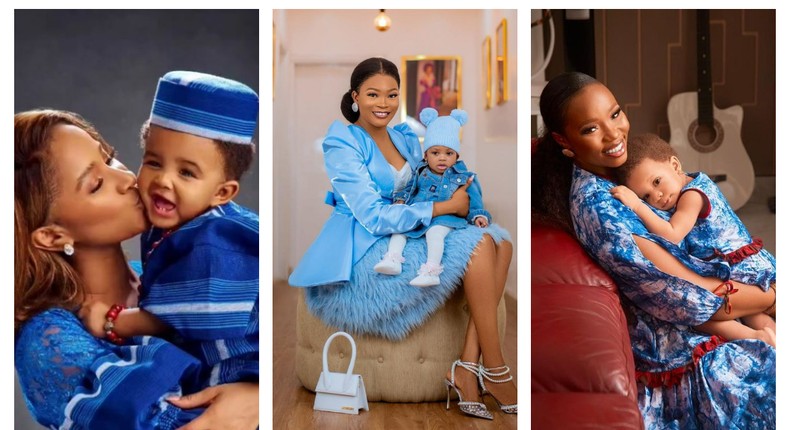 Mother's Day was last sunday and we are still celebrating.
One of the best part of having kids is taking really adorable pictures them while wearing matching outfits.
It's not as easy as it sounds and you have to make sure your kid's outfits fit them as much as it fits you. Here are some moms who have done well in no particular order.
1. Delphine Okoronkwo
Delphine and her daughter are dressed like roman princesses and love the neat updo on her daughter and the crown.
2. Adesua-Etomi Wellington
Adesua and her son look absolutely gorgeous in aso-oke. Aso-oke is always a better choice than ankara when it comes to children because of how it fits.
3. Tania Omotayo
Tania and her daughter rocked a pink mini skirt and shirt. It worked for both the mother and child, but loved the white sneakers on her little girl.
4. Kie Kie
Imagine this, a baby in a jean pinafore and jeans jacket, she completely stole the show from her mom who wore a silk skirt and jacket. Love how they colour coordinated and they didn't wear the same outfits.
5. Bam Bam
Bam Bam and her daughter looked beautiful in adire, love how she made the gown short, sleeveless and baby appropriate for Zendaya.
JOIN OUR PULSE COMMUNITY!
Recommended articles
itel celebrates Children's Day 2023 with over 1,000 children In Abuja
What kind of parents are millennials? 5 ways they differ from their own parents
This week's best celebrity pictures on Instagram
Orijin launches 'Deeply Rooted' campaign championing transformative power of Naija roots
5 things adults miss about Children's Day
5 African countries where snow falls
Amstel Malta shines spotlight on digital content creators at AMVCA 9
How to find love when you leave Nigeria
Indomie adds flavour to the AMVCAs 2023: Lights, Camera.. Flavors!
SupaKomando electrifies 9th edition of AMVCAs!
Nigerian student breaks Guinness World Record for most skips on one foot in 30 seconds
Join the Meisters Expression Concert live in Ibadan for epic music, epic vibes