Evans' mother goes into hiding as community disowns him
The mother of arrested billionaire kidnap kingpin has gone into hiding while his community has disowned him.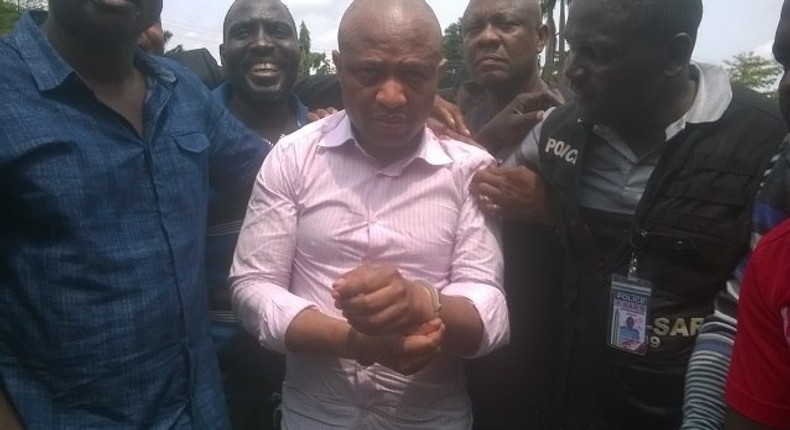 The mother of the notorious
It was also gathered Evans community in Umudim village in Nnewi, Nnewi North Local Government Area of Anambra State have disowned and excommunicated him following his atrocities and the shame he has brought on the area.
New Telegraph reports that Evans mother, Chinwe Onwuamadike who is popularly called Lady Nwosu, has gone underground since the news of the arrest of her billionaire criminal son following the mockery of the town's people as well as journalists that have been thronging her home with questions.
Reports have it that Lady Nwosu, a local businesswoman who runs a canteen, knew that her son was a dangerous criminal and that he even bought her a car, though residents of the town say the woman did not benefit from her son and took rides on commercial motorcycles whenever she wanted to move around.
However, since the arrest of her son, Lady Nwosu has not been seen at the canteen as she is said to have gone underground and is hiding from people who had been visiting her to sympathize with her over her son's arrest.
A woman who spoke with newsmen on the condition of anonymity when asked Evans' mother's whereabouts, said:
"She went into hiding because people were trooping in to sympathize with her over the arrest of her son. Some came for a different purpose; to make a mockery of her and to see the face of the mother of the arrested kidnapper.
Even you newsmen were troubling her. She has been crying since news of the arrest reached her. I do not know where she has gone to but I think it is good for her."
The village head of Evans' village, the Obi of Umudim, Chief Benneth Okafor, also said the community does not know nor recognize the kidnap kingpin as a member of the town as he hardly visited home, neither did he have any investment in the community.
Chief Okafor said that Evans was excommunicated from Nnewi over five years ago because of the atrocities he committed in the community and other places around the country.
"I was told that he hardly came home. It is only the Akamili kindred where he comes from that will be able to give a little account of the young man.
It is unfortunate that many people in this village do not know him because he does not have any investment in Nnewi like an average Nnewi man, neither does he own any house here."
JOIN OUR PULSE COMMUNITY!
Recommended articles
Africa's richest woman Isabel Dos Santos finds herself deep in another financial scandal
Top 10 richest mineral-producing countries in Africa
Top 10 African countries with internet freedom
Top 10 African cities where it is most expensive to get food
5 African countries which have received loans from the IMF in 2023
Veteran Nollywood actor Adewale Adeyemo is dead
'There was a point...I was seeing the stage upside down' - Hilda Baci
Beautiful Nubia, Tosin Ashafa, others pay tribute to OAU alumnus Abass Oyeyemi
Tribunal rejects PDP, LP's request for live broadcast of court proceedings