Can you believe Michael Jordan's only movie is 20-year-old?
Two decades ago Michael Jordan and Bugs Bunny took on evil monsters in an epic game of basketball.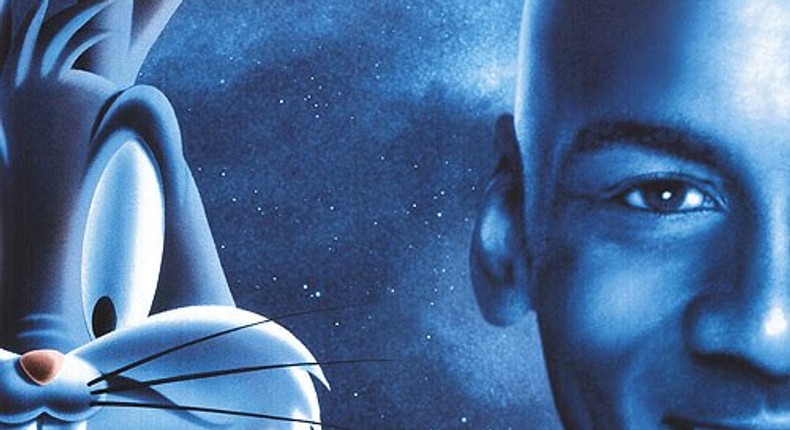 In 1996, kids around the world wanted to fly. Why?
It was the stuff of dreams. Even in Nigeria, we knew that Michael Jordan was the best basketball player in the world. On the weekends NTA 2 Channel 5 would play select matches from the NBA. Kids didn't really fancy the start and stop progression of basketball. What we wanted to see were the highlight reels where we saw men defy the laws of gravity.
Michael Jordan was everybody's fan favourite when the reels came on. Seeing the bald Chicago Bulls player dribble, meander in the air, dunk and slam on his opponents were glorious. Prior, to Michael Jordan dominating the sport, the only global sports star that was a household name was Maradona. M.J was the Maradona of basketball. He really had the 'hand of god'.
While Michael Jordan was the undisputed hero in sports, Bugs Bunny was the king of cartoon characters. The always chippy rabbit was insanely popular not only among kids but adults also. Daffy Duck was popular too but Bugs Bunny was miles ahead in popularity.
The idea for Space Jam came in 1992 when Warner Bros and Nike paired their best brands in an advert for Super Bowl. The advert was a hit and it started the motion for the live action/animation movie Space Jam.
When the production of the movie had started Michael Jordan was preparing to get back into basketball from his retirement. MJ infamously retired in the '93-'94 season and tried his hands at baseball which he sucked at.
Even though MJ was out of the game, he was still popular to star in his own movie. Space Jam, in which Michael Jordan plays himself helps a collection of Warner Bros characters defeat the Monstars team in a charged game of basketball.
Space Jam was released on November 10, 1996. Despite critics bashing it, the movie would go on to rake $230.4m worldwide against a budget of $80m.
It's not only kids who watched the movie, adults also did. The soundtrack which had rap songs also helped the movie make a mark in Hip-Hop. Jay Z also ghost wrote Bugs Bunny's rap.
20 years after, Space Jam is still a fresh fantasy basketball movie. In the history books, no basketball movie has made more money at the box office than Space Jam.
While the possibility of a sequel still looms, it is more than unlikely anyone would top Michael Jordan and his animated toon mates who had the greatest comeback in basketball.
JOIN OUR PULSE COMMUNITY!
Recommended articles
Beatrice and Boma face off in new BBNaija Reunion teaser
IPOB kills woman, 4 kids, 6 other northerners in Anambra
Why is the dollar shortage crisis in Africa getting worse by the day?
Top 10 happiest countries in Africa in 2022
Bolton's new 'Jay-Jay Okocha' wants to represent Nigeria ahead of England
Arsenal suffer a blow as Osimhen makes his transfer decision
Rubber producers present life crocodile to Obasanjo, say they can't give him money
10 African countries with the largest foreign exchange reserves
Here are the 5 worst cities to live in Africa, according to Economist Intelligence Unit report