'Our brother, fiancee dated for 7 years' - Family
Three days after a bride absconded on her wedding day, family members are still in shock especially after they had dated for seven years.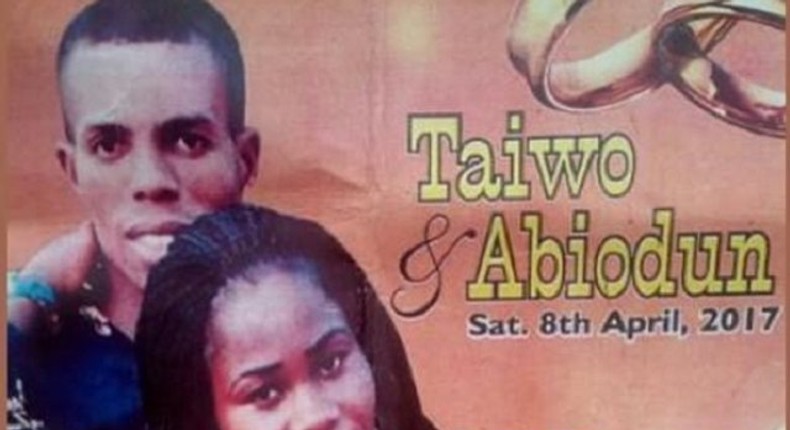 The incident which happened in Ondo Town, Ondo State where Orimoloye failed to show up for her wedding has left both families seriously embarrassed going by the fact the couple had dated for seven years and could have known what they wanted as they decided to get married.
Orimoloye's whereabout is still unknown three days after her mysterious disappearance though there are insinuations that she could have eloped with another lover as she did not want to get married to Isaac.
A source in the groom's family who lamented the incident said the bride did not show any sign that she would do such a thing, adding that the incident was a shock to both families.
The source explained that Isaac and Orimoloye met at the Adeyemi College of Education, Ondo, and had been dating for seven years without any disagreement between them.
"The incident is still a mystery to everybody because both families have been having a smooth relationship.
She had never dated anybody apart from Abiodun. She is a very good girl and both families consented to their union. There was no disagreement from any party.
She did not show any sign that she would cancel the wedding. We were all at the church, expecting her.
Even her father did not believe what happened because I don't think she told her parents of her plan to boycott the wedding.
They did not quarrel; both of them still spoke on the telephone on the eve of the wedding day. She did not give him any sign. She has not switched on her phone; we don't know where she is."
Since her disappearance, it was learned, Orimoloye's phones have been switched off and none of her family members or friends could say what has become of her.
JOIN OUR PULSE COMMUNITY!
Recommended articles
Meet the Sapeurs, Congolese who wear expensive outfits though they live in poor communities
Top 10 African cities with the highest purchasing power
Nigeria's currency hits a new record low on the official market
Aliko Dangote announces refinery license to process 300,000 barrels of Nigerian crude daily
Top 10 African countries leading in attracting and retaining talents
Top 10 African cities with the most expensive real estate
10 African countries with the lowest GDP projection for 2023 as the year rounds off
10 African countries with the highest balance of cash inflow and outflow
List of African cities with the highest quality of life