5 reasons Nigerians are so religious
Ever wonder why Nigerians are so religious and the religious leaders keep drawing members to themselves? These are some of the reasons.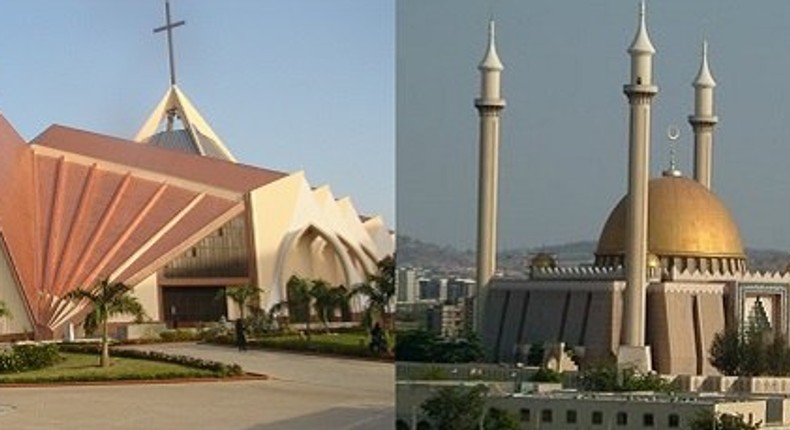 In the words of German philosopher and economist
The full quote from Marx famous statement translates that 'religion is the sigh of the oppressed creature, the heart of a heartless world, and the soul of soulless conditions.'
In Nigeria, the average person is religious at heart; it does not mean that he has a certain conviction but he will make sure he attends church service on Sunday and if he is a Muslim, attends Mosque on Friday.
In fact, the men of God have keyed in on this by organising programs all through the week and Nigerians will abandon their works to attend these programs.
Nigeria as been rated as one of the most religious nations in the world and most religious leaders and politicians capitalise on this to play the people against one another, especially when they stand to gain something.
Many keep wondering why Nigerians are this religious even when it does not reflect in what they do?
These are five reasons Nigerians are very religious people:
Most Nigerians see religion as an escape route to most of their problems and they feel they can pour it all out to an ever listening God.
The country, according to many, is skewed in a way that you just have to believe in something, so Nigerians, to escape from the economic crisis, hardship, unemployment family problems and other societal problems, they find solace in the churches and Mosques.
The pastors and Imams in Nigeria have found a way to play on the psyche of Nigerians by becoming motivation and prosperity speakers.
In fact, the normal church goer wants to be told he will get some miraculous blessings and would keep attending the church hoping for the blessings to come even if it takes an eternity.
The most successful men of God in Nigeria today are the motivational and prosperity preachers and the people look up to them and try to emulate their lifestyles.
It is only in Nigeria that a man will be told that he would get a miraculous phone call from someone he does not know and the person would hand him millions of Naira.
Nigerians love miracles to a fault and would not mind attending a religious program if he hears how miracles are performed there.
many sick people would prefer going to a church for a miraculous healing instead of going to a hospital for treatment.
That is much Nigerians believe in miracles and as such, the men of God have become spiritual surgeons.
Single people often believe that they can get their spouses when they are prayed for and the influx of these set of Nigerians to religious bodies have become quite alarming.
Most people in Nigeria can go through one month fast and assignment regime in their quest for divine money and material things instead of working for such things.
It is, therefore, no surprise to see people attend religious programs all through the week instead of looking for their daily bread.
The fear of the unknown coupled with the strange revelations they get from their pastors and Imams force many Nigerians to depend too much on religion.
It is no surprise that the men of God themselves who know this, play on the people by always ascribing any misfortune to witches, wizards and family altars and the need to cast away these demons has forced people into becoming slaves to religion.
JOIN OUR PULSE COMMUNITY!
Recommended articles
BBNaija's Kess loses son
Time and where to watch Nigeria's Falconets vs France
'She is not one of us' - NBA disowns disqualified BBNaija housemate, Beauty Tukura
BBNaija: Beauty disqualified from reality TV show
Toyin Lawani loses baby
BBNaija 7: Highlights from Week 2's Saturday night party
BBNaija 7: Biggie might be swapping housemates today, here's why
BBNaija 7: I was horny on my bed - Amaka reacts to Khalid & Daniella having s*x
BBNaija 7: Daniella, Khalid in marathon s*x as Amaka watches in shock