69-year old tourist falls into boiling Geyser while trying to take a selfie
A 69-year-old tourist is fighting for her life after falling into a geyser whilst apparently trying to take a selfie.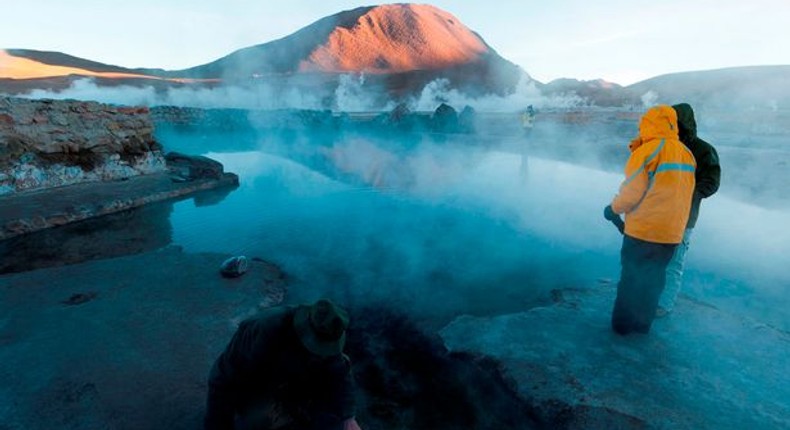 The woman suffered 85 per cent burns to her body in the accident at one of the most dangerous scorching water plumes at the world-famous El Tatio in the Antofagasta region of Chile.
The woman, who is from Belgium, walked over to one of the geysers, which can hit heights of up to 18ft, but slipped when she was surprised by their ferocity and fell into the hot spring.
Her frantic husband was able to pull her out but he too suffered burns to his arms during the rescue.
The 69-year-old woman was flown to the special burns unit at the Hospital de Santiago de Chile.
A police spokesman said all the indications suggested it was a tragic accident but El Tatio has been closed for five days to allow a full investigation.
From their preliminary enquiries, they believe the woman was standing with her back to one of the geysers as she took a photograph.
An official warning on the tourist attraction 's site says: "Not all of the ground in El Tatio in stable.
"Be especially careful near the salty crusts of the "ojos del agua" (bodies of water).
"They're very brittle and if they give way you could get a bad burn, as the waters reaches temperatures of 85ºC."
The geyser field is located within the Andes Mountains of northern Chile at 4,320 metres above the sea and its name comes from the Quechua word for oven. It is among the highest-elevation geyser fields in the world.
A geyser is a vent in Earth's surface that periodically ejects a column of hot water and steam. Even a small geyser is an amazing phenomenon; however some geysers have eruptions that blast thousands of gallons of boiling hot water up to a few hundred feet in the air.
JOIN OUR PULSE COMMUNITY!
Recommended articles
Top 10 African countries with the highest crime rates
BREAKING: Sam Larry in police custody over Mohbad's death probe
NADECO calls for Tinubu's resignation amidst academic scandal
BBNaija's Angel debunks rumours tagging her relationship with Soma as PR
Sam Larry pleads his innocence over alleged involvement in Mohad's death
3 things you shouldn't do for a woman you are not married to
Why some people refrigerate their condoms before use
The wild sex and sexual practices of ancient Rome
Nigerians react as Amaechi, Adeyanju spotted in Law School