Comedian brings satire to late night TV with 'The Other News'
Okey Bakassi is using his comedic talent to present news in a new way.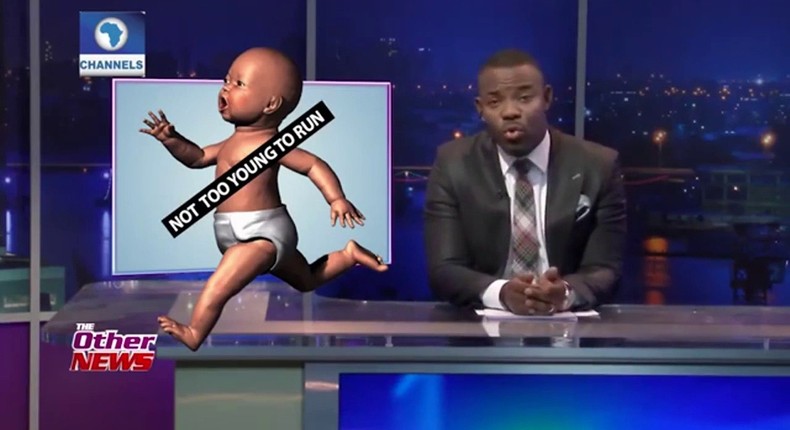 In September 2016, Pulse published an article on why
In America where this TV program format was created, late night TV shows have helped add spicy commentary to political and pop culture stories.
Millennials have gotten tired of the standard news which is boring and biased based on the leanings of the news organization.
Late night TV shows have helped add satire, context and other angles to popular news stories. These shows are normally hosted by comedians.
The Daily Show with Trevor Noah is a popular example of an American late night TV show. South African comedian Trevor Noah has taken his experience of lambasting his country's president Jacob Zuma on stage to the big screen. His witty attacks on Donald Trump are witty faves.
Nigerian politics is never dull. The Abuja gang keep giving us one outlandish story after the other. Unfortunately, our TV houses haven't taken advantage of these scandals by creating a late night TV show that would bring all the Twitter bants on screen...well until now.
On July 20, 2017, Channels Television debuted "The Other News." It's the award winning television station's own late night TV show.
It is hosted by Nigerian veteran comedian Okey Bakassi who was insanely popular in the late 90s to the mid-00s.
The stand-up comedian so far has put out a good performance in his new gig. He is witty, has good punchlines and his interviews are crisp and straight to the point.
Just like in the American format, Okey Bakassi introduces the show by highlighting the popular stories of the week which are peppered with his commentary on the issues.
The Other News also features special reports put together by Channels TV reporters. The special reports range from funny (production of pencils in a Nigerian state) to societal (pressure on women to get married).
Okey Bakassi has interviewed the likes of Charly Boy and Patrick Obiaghabon. The Charly Boy interview stands out for being light hearted and serious at the same time.
While The Other News isn't exactly a late night show, it airs at 8 pm every Thursday, and Bakassi's commentaries could add a bit of zest. His criticism of those in power are not hard and sharp as his American counterparts. That's understandable if we bring political environment into question. Nevertheless it is a good show.
Channels TV should be applauded for trying out a new format while many TV stations have stuck to the boring and mundane political analysis programmes.
JOIN OUR PULSE COMMUNITY!
Recommended articles
Top 10 richest mineral-producing countries in Africa
Top 10 African countries with internet freedom
5 African countries which have received loans from the IMF in 2023
5 African countries where snow falls
Tanzania says its Sh1.4 trillion ($600 million) loss is no cause for alarm, see why
Call your girls to order  —  Abike Dabiri tells Arise TV owner
Veteran Nollywood actor Adewale Adeyemo is dead
Africa's richest woman Isabel Dos Santos finds herself deep in another financial scandal
'There was a point...I was seeing the stage upside down' - Hilda Baci