Homeless woman nabbed while dumping baby after lover abandoned her
A woman who was dumped by a lover who got her pregnant has been nabbed while trying to dump the baby in front of an orphanage in Lagos.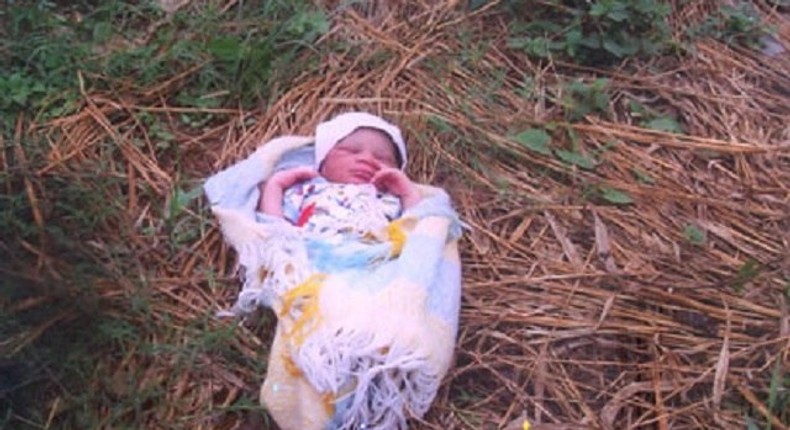 It was gathered that the young lady who blamed her actions on her inability to take care of the baby, was seen by some traders in the area around 9.00 a.m. on Sunday, June 12, as she was about dropping the baby, and drew the attention of officers of Rapid Response Squad (RRS), of the State Police Command, who arrested Jegede and rescued her baby.
A source with the RRS said that Jegede and the baby were taken to the RRS office in Magodo.
"Around 9.00 a.m. on Sunday at Magodo, the attention of the RRS was drawn to a young lady who was suspected to be dumping a baby in the front of an Orphanage.
The operatives got there and brought the situation under control," the source said.
When questioned on why she decided to dump her baby, Jegede, a native of Imesi Ile in Osun State, said she went to the orphanage home with the intention of handing over her baby to somebody there but she could not do so since it was a Sunday and the senior officials of the orphanage were not around.
According to her, she could no longer take care of the baby due to her environment and lack of money.
"I came to Lagos in 2009. I lived with my mother at No.1, Ejo Street, Igando. It was my mother that used to pay the house rent. One day, we didn't just see her again. She didn't come back home.
She didn't leave home with anything; all her things are still there. I don't know her  whereabouts. But when the rent expired, I had no choice but to leave the house. That was over a year ago. I live inside market, just any space to sleep.
The man who got me pregnant ran away and abandoned me. I only know him as Sunday. I don't know his surname. I don't know his parents. I don't know his whereabouts too. That day, I went to sell pure water. Before I came back, he had packed all his belongings and disappeared, leaving me behind. I gave birth to my baby at Ikotun market," she narrated in tears.
However, at the RRS office, succour came the way of Jegede and her baby daughter as policemen and women, led by the commander, Olatunji Disu, showered them with gifts and money and later transferred them to the Isheri Divisional Police Station.
JOIN OUR PULSE COMMUNITY!
Recommended articles
Top 10 African countries with the highest crime rates
BREAKING: Sam Larry in police custody over Mohbad's death probe
NADECO calls for Tinubu's resignation amidst academic scandal
BBNaija's Angel debunks rumours tagging her relationship with Soma as PR
Sam Larry pleads his innocence over alleged involvement in Mohad's death
3 things you shouldn't do for a woman you are not married to
Why some people refrigerate their condoms before use
The wild sex and sexual practices of ancient Rome
Nigerians react as Amaechi, Adeyanju spotted in Law School