Family accuse firm of abandoning worker injured in factory accident
A factory worker who was electrocuted in a work-place accident has been abandoned by the company, says the family.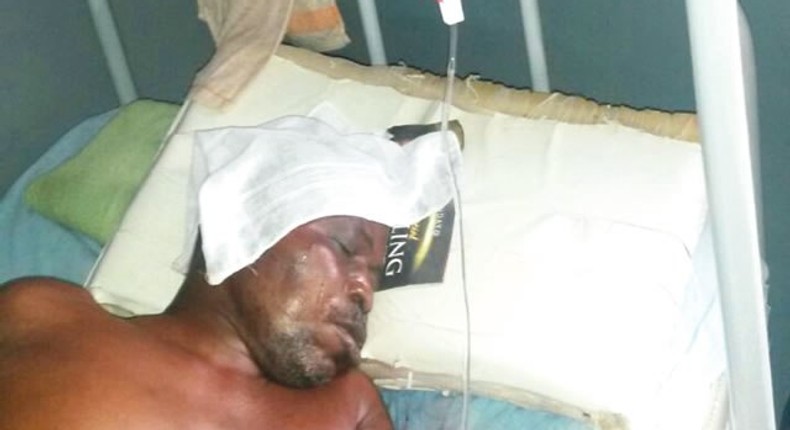 The family of a 64-year-old factory worker,
The family report that Olawuyi, an electrician, was working on some electrical faults in the Oregun, Ikeja, Lagos State office of the company, when the accident occurred in which he was electrocuted by the current and all efforts by them to get financial support from the firm had been abortive.
Biodun Olawuyi, the victim's son, said his father's ordeal started on May 27, 2016, after he was electrocuted while working at the company's office.
"My father is a casual worker in the company and he has been working for them for about 10 years now. He is on a salary of N30,000 per month.
The problem started on May 27, 2016, while at work. He was making some electrical repairs when he suffered an electric shock due to a wrong connection.
But the shock didn't throw him off the ladder he climbed. He came down by himself and a friend gave him a tin of milk to drink to reduce the effect of the shock.
He suddenly collapsed while trying to take his drugs. I raised the alarm and got him to a hospital, where he was placed on oxygen for two days.
After he was admitted, we got in contact with the Human Resources Manager and she promised to help but nothing has come out of it so far.
In my presence, she called two of the company's hospitals to see if my father could be transferred there. The first hospital did not respond.
But the management of the second hospital said they would need to see my father before they would decide whether to admit him or not.
She then suggested that we should take him to the general hospital. I told her we needed to pay a medical bill of N40,000, which we were owing the private hospital, but she didn't do anything.
We have been given a letter to move my father from the private hospital, but we have no money to pay. Whereas the company still owes my father up to three months salaries," Biodun lamented.
But reacting to the accusation, the Human Resources Manager of the company, said the company had done its best in the case.
"My directors have been on my neck that I should talk to the son. I was the one that suggested that if the private hospital was not treating him well, he should be taken to a general hospital.
I was of the opinion that he should be moved from the private hospital to our own company hospital. The son was there while I talked to the hospitals on the telephone, and it was when they were not responding well that I said we should move him to a government hospital.
I spoke to the man's son and asked about his father and he said he was okay. He said the hospital had asked that he should be moved to a government hospital.
I said we could not just move him from the private hospital to a general hospital because I know what it takes. They won't attend to him on time and they may even put him in the open and due to the nature of his sickness, we cannot allow him to be left alone just for a second.
Till now, the son has not called me back. Also, we do not owe his father. What we are doing now is based on humanitarian ground because he didn't even write any official letter to the company about his sickness."
JOIN OUR PULSE COMMUNITY!
Recommended articles
Rick Ross declares interest in Ayra Starr
Top 10 African cities where it is cheap to get food
Nigerians express concern over immediate implementation of subsidy removal
BREAKING: Tinubu confirms Gbajabiamila as chief-of staff
In this Ugandan tribe, the bride's aunt has s*x with the groom to test his sexual prowess
Study shows men have been peeing wrong; they ought to sit and not stand
Uba Sani appoints 29-year-old Jewel Tok Pam as SSA
Veteran Nollywood actor Adewale Adeyemo is dead
Naira marginally rises against dollar in 24 hours of Tinubu's presidency