14-yr-old girl narrates how father, 5 men raped her repeatedly
A 14-year-year-old girl who has been serially abused sexually by her own father and other men has cried out for help from the Ondo government.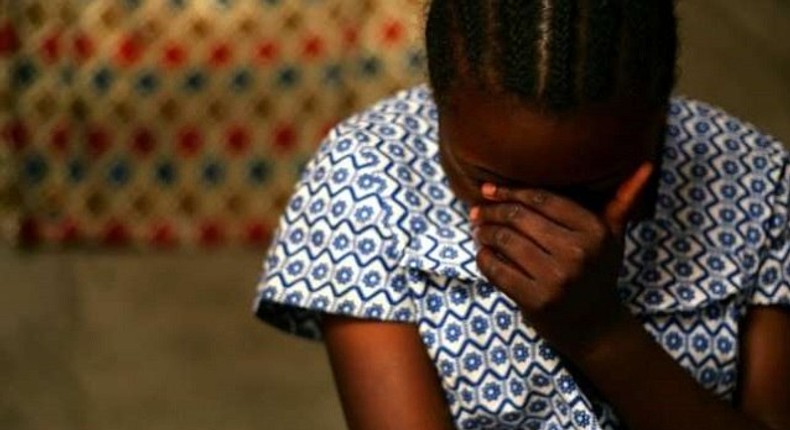 A 14-year-old girl who has been the victim of
The girl, according to reports, has begged for help to stop repeated sexual abuse she has been suffering from men, including her own biological father.
The teenager who gave birth to a baby boy in January 2017, as a result of the series of sexual assault on her, has therefore called on the government, civil society organisations and humanitarians, to come to her aid after the father of her three-month-old rejected the child, insisting he was not the only one that had carnal knowledge of her.
The girl said she dropped out of one of the Local Authority primary schools when she was in Primary 4, identified one Sikiru, a commercial motorcyclist, as the father of her baby, though she admitted that Sikiru invited some of his friends to defile her too in her father's house.
Sikiru who is married to two women, while being interrogated, admitted that he slept with the victim many times in her father's house and had also invited his friends namely Omo Ibo, Jibola, Akue and Dada to join in the act as well.
The minor noted that whenever she accosted Sikiru, a father of two who is also her father's co-tenant about the baby, he would threaten to chop off her head if she ever told anyone that he is the father of her baby boy despite the child being his carbon copy.
She also claimed that her father too had sex with her but that he was not the one who got her pregnant, revealing that her father had divorced her mother when she was a baby, and also had sex with her after she put to bed.
The teenage victim was rescued by her former teacher in the LA School, identified as Mrs. Olatunji, who has urged governments at all levels and all humanitarian groups to help her prosecute Sikiru and his friends for taking undue advantage of her innocence.
Olatunji disclosed that the victim had been maltreated and uncared for since she was her pupil:
"She would come to class in tattered uniforms, no textbooks, no writing materials and often times would come to school without food."
The teacher who said she had been the one taking care of the 14-year-old mother and her baby, narrated that she just disappeared from school suddenly and was later found in a street in Akure, the state capital, looking unkempt, pale, distraught and with her malnourished baby.
"I was sad when she told me that she left school because she was pregnant and had been delivered of the baby boy. She said one Sikiru, a co-tenant in one of the single room apartment which she was staying with her father, step-mother and a sibling, who is now deceased, is the father of the baby but refuse to take responsibility.
There was a day the step-mother stormed our school shouting that we should help her beg her step-daughter to leave her husband alone.
The woman narrated how she woke up in the middle of the night and found her husband having sex with the victim. When we asked the father, he denied it," Olatunji added.
She added that immediately she saw the terrible condition of her former pupil and the baby, she had compassion and went to a nearby police station to report the case before taking her custody.
JOIN OUR PULSE COMMUNITY!
Recommended articles
See the ambitious Sh1.4 trillion ($10 billion) project the president of Kenya is involved in
Sex is now a sport in Sweden, all you need to know about the competition
Here are 5 things you must do immediately after you have s*x
Subsidy: FCT to develop lanes as FRSC wants Nigerians to embrace bicycle
Veteran Nollywood actor Adewale Adeyemo is dead
Tanzania to grant special status to diaspora inhabitants by the end of 2023
Naira marginally rises against dollar in 24 hours of Tinubu's presidency
'There was a point...I was seeing the stage upside down' - Hilda Baci
Kate Henshaw finally unveils daughter publicly