Police nab notorious human trafficker
The suspect was on the list of wanted trafficker in three countries, Nigeria, Benin Republic and Togolese immigrations services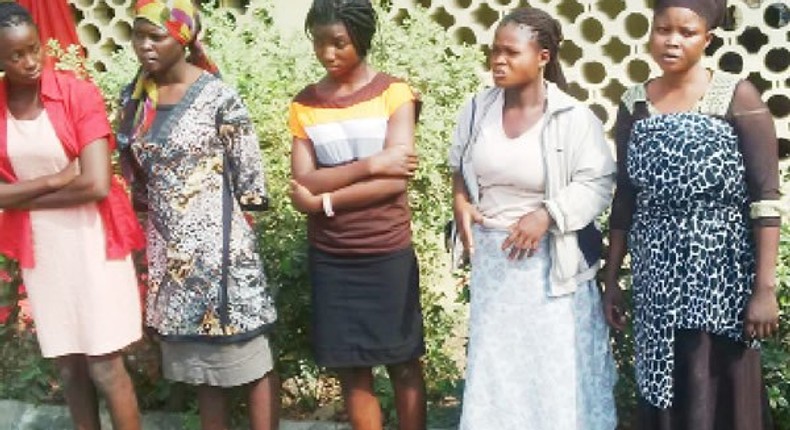 The end came for 30-year-old Falilat Janta, one of the most wanted human trafficker on the police list.
As reported by punch, Falilat was arrested with her baby girl in Iseyin area of Oyo State after being on the run for a long time.
She was on the list of traffickers wanted in three countries, Nigeria, Benin Republic and Togolese immigrations services.
Confirming her arrest by the Comptroller of Immigration, Oyo State Command, Innocent Akatu.
"This is a special occasion because a notorious trafficker who had been on the wanted lists of Nigeria, Benin Republic and Togolese immigration departments has been arrested. She is young but she has been involved deeply in human trafficking.
"She was once arrested but because she was pregnant, she was let off the hook on compassionate grounds. She has since proved to be unrepentant. She trafficked four ladies to Nigeria and handed them over to end users.
"Two of them worked in Lekki, in Lagos. We have two letters from the Togolese government seeking our help to locate the girls. Their parents had been looking for them for some years." He said
The suspect is known for transporting females illegally into the mentioned countries, she was arrested alongside some of her victims who confessed to have been tricked by her into providing good life for them, but they end up as maids and sometimes get abused.
"I am from Togo and I was doing house maid in Nigeria before I was arrested. I travelled home three years ago and brought the girls to Nigeria. I told their parents that they were going to Nigeria to work as house girls. I collected their salaries and kept for them. I did not use them for prostitution," says falilat.
"I work in a local restaurant in Lekki area of Lagos State. She takes all the money. I have three children in Togo and they live with my husband," says Yaovi, one of the victims
"I was taken to a room in Lagos and locked in there with a man who attempted to force himself on me but when I shouted for help, he left. Then people came to my aid. That was the only time I was almost forced to have sex with a man," say 21-year-old Joy Sama, another victim.
JOIN OUR PULSE COMMUNITY!
Recommended articles
Top 10 African countries with the highest crime rates
BREAKING: Sam Larry in police custody over Mohbad's death probe
NADECO calls for Tinubu's resignation amidst academic scandal
BBNaija's Angel debunks rumours tagging her relationship with Soma as PR
Sam Larry pleads his innocence over alleged involvement in Mohad's death
3 things you shouldn't do for a woman you are not married to
Why some people refrigerate their condoms before use
The wild sex and sexual practices of ancient Rome
Nigerians react as Amaechi, Adeyanju spotted in Law School