Doctor grows new ear on man's arm
Doctor Guo Shuzhong is leading the surgery process aimed at restoring the ear of a man named Ji.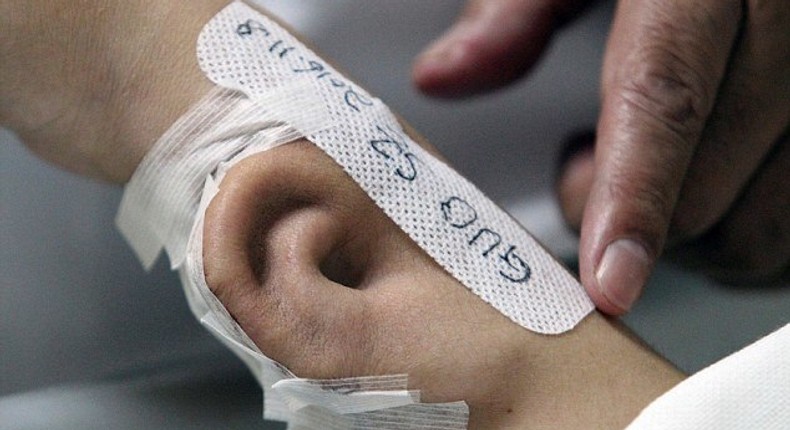 A Reconstructive Surgeon, Doctor Guo Shuzhong has marveled sights after growing a human ear on a mans arm.
The endeavor is aimed at restoring the ear of the man simply known as Ji, who had lost his right one in a car accident.
Shuzhong, who has 33 years of experience in the field, led a team to the First Affiliated Hospital of the University of Xi'an, China to help the patient.
According to China Daily, the process has already gone through two phases.
In the first phase, doctors buried a skin expander in the patient's right forearm and regularly injected water to expand the skin.
The second phase saw doctors take part of the rib cartilage from the patient and buried it under the expanded skin.
Speaking concerning the third phase, Shuzhong said, "The third phase of the operation, to transplant the new ear onto Ji's head, will be carried out in three or four months."
Ji, a happy patient was excited about the progress of the surgery saying with a smile on his face, "It looks exactly the same as my old ear."
If successfully completed, Doctor Guo Shuzhong would have carried out one of the greatest wonders of reconstructive surgery which the world has ever seen.
JOIN OUR PULSE COMMUNITY!
Recommended articles
Sex is now a sport in Sweden, all you need to know about the competition
Peter Obi tenders more evidence in Presidential Election Tribunal
Kate Henshaw finally unveils daughter publicly
Veteran Nollywood actor Adewale Adeyemo is dead
Naira marginally rises against dollar in 24 hours of Tinubu's presidency
7 body parts you must clean every day to avoid body odour
2 ways to lighten the skin naturally with tomatoes
'There was a point...I was seeing the stage upside down' - Hilda Baci
Burna Boy thanks his sister for helping him sell out Wembley Stadium