Soldier bags 4 years for raping 11-yr-old girl
A military officer who forcefully abducted and raped an 11-year-old girl has been sentenced to four years in prison.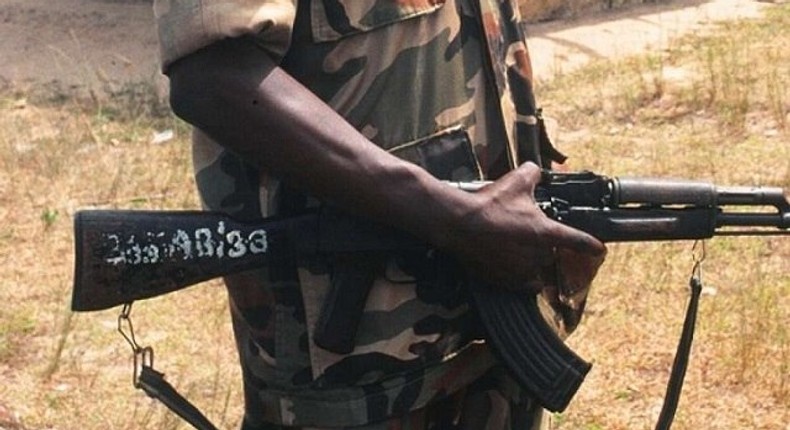 A serving Nigerian soldier,
The apex court which had a five-man panel, unanimously held that the General Court Martial was right to sentence Ahmed to four years imprisonment, after he had appeal the judgment.
While delivering judgement on the case, Justice Kudirat Kekekere-Ekun, dismissed Ahmed's appeal against the verdict of the court martial, declaring that the appeal filed by Ahmed against the judgment was nullified.
The Supreme Court agreed with the court martial that the prosecution proved its case of defilement against the convict.
"I am of the view that the lower court (Court of Appeal) was right when it affirmed the decision of the General Court Martial that the prosecution had proved its case against the appellant beyond reasonable doubt.
Furthermore, so long as a person has carnal knowledge of a girl under the age of 16, whether it is with her consent or not, an offence is committed.
No special grounds have been shown by the appellant to warrant interference by this court with the concurrent findings of fact by the two lower courts.
I therefore hold that the appeal lacks merit. It is accordingly dismissed. The judgment of the Court of Appeal, Abuja division, affirming the conviction and sentence of the appellant to a term of four years imprisonment by the General Court Marshal is hereby affirmed," Justice Kekere-Ekun ruled.
JOIN OUR PULSE COMMUNITY!
Recommended articles
DRC and Angola set aside a 50-year oil block dispute to become joint holders
Veteran Nollywood actor Adewale Adeyemo is dead
Naira marginally rises against dollar in 24 hours of Tinubu's presidency
Beautiful Nubia, Tosin Ashafa, others pay tribute to OAU alumnus Abass Oyeyemi
Zainab Balogun explains how medical disorder affected her marriage
Poverty level in Nigeria unacceptable, Tinubu tells governors
Obaseki increases minimum wage to ₦40k, asks workers to work from home twice a week
Tribunal rejects PDP, LP's request for live broadcast of court proceedings
Asake drops new song with Olamide, announces release date for second album