Nigerian drug baron gets 27 years in Cambodia
Another Nigerian drug baron has been sentenced to prison in Cambodia after he lured women on online dating sites and using them as couriers.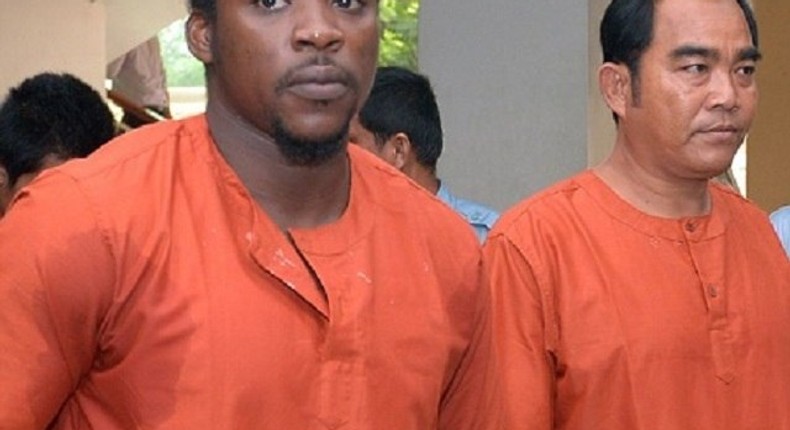 Daily Mail reports that Nwoko who is also known as Precious Max, a handsome and bodybuilding buff, used his physique and good looks to lure the women into a relationship with him only to use them as his mules in the drug trade.
It was gathered that Nwoko used an online dating scam to trick the women into smuggling heroin for an international drug cartel that he belongs to and had been involved in the illicit trade for years before he met his Waterloo.
Revealing details of the how he was caught, Daily Mail narrated that the Nigerian drug baron who is part of an active elaborate international drug smuggling syndicate lured the women into unwittingly moving drugs for him.
Through his online dating tricks using platforms such as Facebook, Tagged, Badoo and Twoo, he lured more than 20 women across the globe.
He is said to have enticed interested women looking for a partner by sharing photos of his muscular physique in swimming pools and bars, with the promise of love and business.
Before he was finally nabbed, Nwoko told the women he dealt with art and crafts and was largely successful in tricking the women into smuggling drugs out of Cambodia.
His nemesis came when he met an Australian woman online in 2015 and invited her to Phnom Penh, the Cambodian capital to meet Nwoko who pretended to be a South African businessman in the import and export trades.
After some days, he proposed to the woman on the day she was to return to Melbourne and gave her 'samples' from his business for an Australian associate.
Upon arriving in Melbourne, customs found two kilograms of heroin sewn into a compartment and after realizing what had happened, she collapsed in shock and though she was not prosecuted and the case was dropped, the authorities reached an agreement with her to set up a trap for Nwoko.
Another Australian woman, Yoshe Ann Taylor, also fell victim to the Nigeria drug kingpin and was sentenced to 23 years by a Cambodian court after 2.2kg of heroin was found in her bag by the authorities.
The drugs were traced to Nwoko as well. Taylor was arrested at Phnom Penh airport in September 2013 and has since spent three years behind bars.
The Sydney Morning Herald also reported how Nwoko was able to trick Taylor into becoming his drug mule:
"The 44-year-old Taylor was the unwitting victim of 'Precious Max' who, this time, supposedly posed as an arts and crafts dealer.
The relationship between the pair was well developed as 'Precious Max' created an online relationship with Taylor for one year.
Nwoko then offered to pay for Taylor's airline ticket to travel to Cambodia once a certain level of trust was established.
It was during Taylor's third trip to the country when Nwoko asked her to take some artworks back to Australia in her backpack.
However, Taylor did not get far after she was caught at the airport by Cambodia police who were tipped with information provided by Australian Federal Police."
Nwoko was arrested shortly after Taylor in Cambodia. In sentencing Nwoko, the court dashed his hopes in an appeal as it upheld the 27 years' imprisonment handed to him in 2014, noting that his sentence was appropriate and in accordance with Cambodia law.
JOIN OUR PULSE COMMUNITY!
Recommended articles
Despite $3 billion bailout, Ghana has essentially gone bankrupt
South Korea eyes one of Nigeria's precious minerals
4 highlights from Thursday's pool party on 'BBNaija All Stars'
Pere calls out housemates for disrespecting Ilebaye on 'BBNaija All Stars'
List of African countries and how much of their salaries they spend on iPhones
Ukraine plans to fight hunger in Africa despite the dangerous transport routes
Ghana is looking to supply Nigeria with its electricity needs following power grid shutdown
Top 10 African countries with the highest food inflation rates