Driver masterminds kidnap of boss' child, demand for N20m ransom
A driver who masterminded the abduction of his boss' son for a ransom of N20 million has been arrested.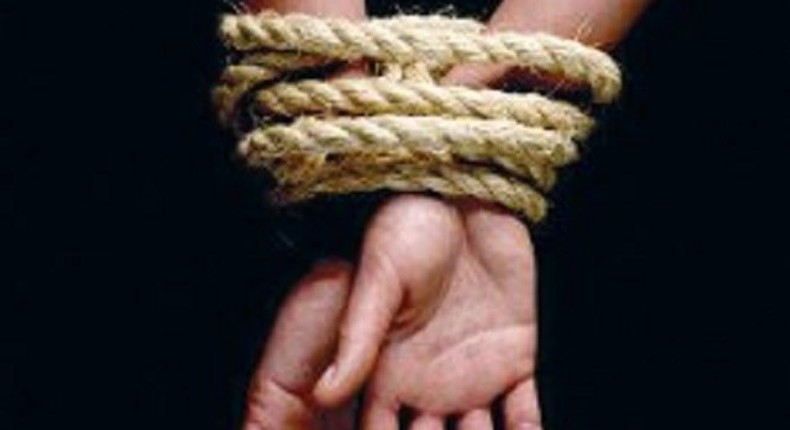 According to the State Police Command who arrested him, Igiri had arranged with two of his friends and abducted the boy and was even the one that led the search party for the boy when he went missing but unknown to them, he was the devil that masterminded his kidnap.
After he was arrested, Igiri allegedly confessed that he was behind the kidnapping, saying that was his first attempt.
"I invited a lady and a boy to handle the operation. When the little boy returned from school and was riding his bicycle, the people I arranged came in.
So, I asked him to open the gate and that was how the lady picked him. When my madam came out and was looking for the boy, I also joined her in the search for the boy.
The second day I felt bad over what I did as I became troubled seeing my Madam crying and calling the boy's name.
When I wanted to confess, I always saw faces of two people discouraging me. I always see two men standing in front of my madam with strange faces. There was a day my madam and her friend took me in her car and as I was alighting, the friend gave me one thousand naira.
I wanted to tell them I was behind the abduction, but a strange face again appeared and I could not say anything.
I told the kidnappers to collect one million but they said they will collect N20 million. After disagreeing with the kidnappers, I agreed with them that if she paid the N20 million, that I will use my share to go back to school. Though the Madam did not pay the ransom.
My share was to be N7 million if the ransom had been paid."
The mother of the missing boy, Telalo Georgina said:
"I am a lawyer and a Minister of the gospel. I prayed with my anointing oil before I interrogated him at the station. And he confessed to me."
JOIN OUR PULSE COMMUNITY!
Recommended articles
NNPC announces new nationwide fuel prices, effective immediately
Nigerian actor Hawwal Ogungbadero, 29 others set Guinness World Record for longest recording session
10 African countries with the lowest digital quality of life index
Nigerians react as Tinubu's daughter declares self as Iyaloja General of Nigeria
Nigerians express concern over immediate implementation of subsidy removal
Ghana may lose control of its resources to China if it defaults on its debt
Top 10 richest mineral-producing countries in Africa
Veteran Nollywood actor Adewale Adeyemo is dead
Naira marginally rises against dollar in 24 hours of Tinubu's presidency