Snow falls in Sahara for the first time in 37 years
In what can be described as unbelievable, snow fell in the Sahara desert for the first time in almost four decades.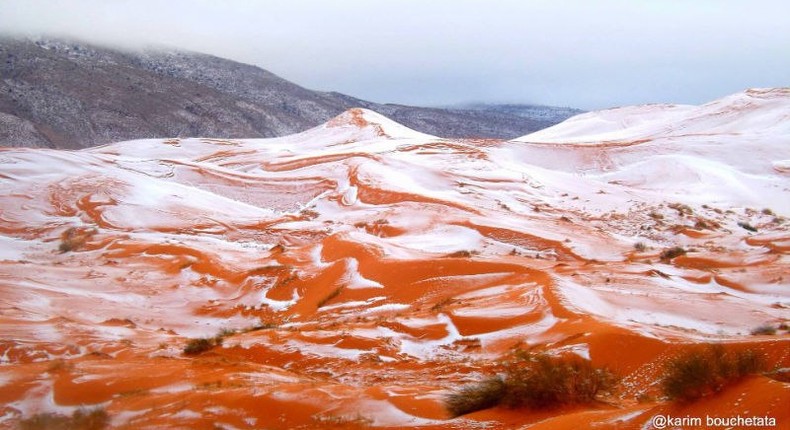 When you think of the Sahara you wont necessarily picture snow falling in the vast arid space.
Well, for the first time in 37 years, snow has fallen in the Sahara. Awww what a Christmas gift. The last time snow was seen in this region of the world was on February 18, 1979, and it lasted for 30 minutes. This is the second time in recorded history this is happening.
The snow fell near the town of Ain Sefra in Alegria. The town is popularly called "The Gateway to the Sahara." Unfortunately, the snow melted the next day.
Luckily, photographer Karim Bouchetata who captured the "very rare occurrence" also told Gizmodo that he was "stunned" to see snow fall in the Sahara. His photos of the rare event show the Sahara in a new and magical way.
In 2013, there was a rare snowfall in Atacama desert in the country of Chile. The Atacama desert is known as one of the driest places on earth.
According to reports the snowfall was the heaviest in 30 years.
In June 2016, Zimbabwe had its first recorded snowfall...well it was more of frozen rain. The recorded depth of the ice was 12 inches and it had a radius of 5 kilometres.
The strange of occurrence left a trail of destruction as trees, vegetables and homes were damaged.
JOIN OUR PULSE COMMUNITY!
Recommended articles
For men: 5 places you shouldn't touch a woman during s*x
Nancy Isime names the kind of actors she prefers to kiss on set
How Abacha's death saved my dad's life 24hrs before execution - Diya's son
The best way to brush your teeth to prevent mouth odour
Whitemoney drags BBNaija women, says they waste their time on the show
5 reasons why you'd be lucky to date a woman with a higher s*x drive than you
Train crash: Bus driver begs for forgiveness after psychiatric, drug tests
Top 10 African cities with the highest population growth from 2022 to 2023
Mercy Aigbe struggles to stay awake after Sahur during Ramadan