Lagos, Ogun, Sokoto submerged in floods
The weekend of August 27 and 28 held bitter memories for some residents of Ogun, Lagos and Sokoto States as perennial rainfall caused untold havoc.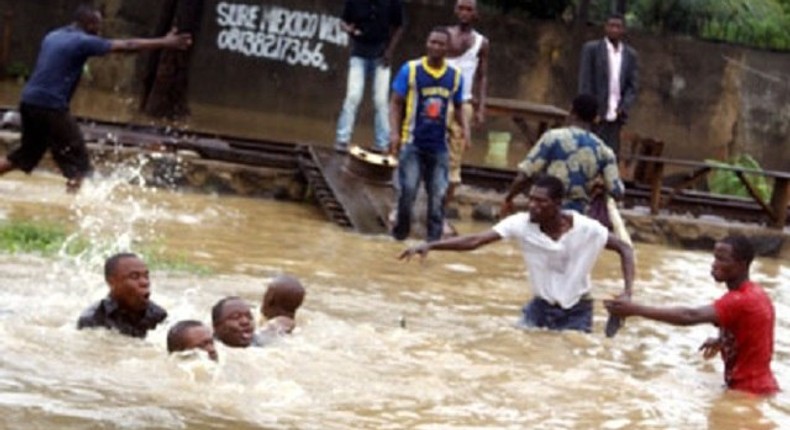 Residents of Lagos, Ogun and Sokoto States have been counting their losses as the heavens opened its windows and
According to reports emanating from the states, many residents were displaced while property estimated at billions of Naira were also destroyed after the downpours that started on Saturday, August 27, 2016, and continued till Sunday, August 28, leaving many homes and streets flooded, just as many Christians could not go to their various places of worship.
In Sokoto, it was gathered that a heavy windstorm in Tundun Yan-Dogo village of Dange-Shuni Local Government Area, destroyed filling stations, cars and uprooted some electricity poles in the community while in Lagos, known for its perennial flooding issues, many streets and houses were affected.
Residents of waterlogged areas like Oworonshoki, Bariga, Ketu, Ikorodu and Lekki were the most affected, owing to their closeness to the Lagos Lagoon and the poor drainage systems in the areas.
In Ogun State, it was learned that more than 50 houses were affected in Ita Oluwo area as the rain poured unceasingly.
A resident of Alapare in Ketu area of Lagos, Pastor Bola Bolawole, narrated how service could not hold in his church on Sunday just as many houses were flooded.
"We could not access our church on Sunday even as of 2pm. The road was completely flooded and we were covered up in water to the waist level. We had to stand by a shop to hold the service, but the rain still drove us away from the place.
After that, I went on visitation to some of my members and I saw many of them scooping out water from their homes.
You can't go to some parts of the community right now. Water has completely taken over Bakare and Oriola streets and other parts of Alapere. Televisions and fridges were submerged by the floods. Many people have been cut off from their homes."
Another resident in Bariga, Bolatito Ibiyemi, also said that some parts of the community were not accessible due to the floods.
"The rain has been intense. Places like Oko Oba, Amodu and Arobadade streets and Ilaje Road, have been rendered completely impassable. A church in Ayedun Street was flooded and the members could not hold their service."
Reacting to the floods that took over the state, the General Manager of the Lagos State Emergency Management Agency (LASEMA), Michael Akindele, said the agency received distress calls from residents of Oworonshoki, Ifako, Ikorodu and Lekki areas.
"Several property and items worth millions of naira were damaged, but no life was lost.  The affected streets around the Oworonshoki area include Fasasi Ojomu, Ogunyomi,   Abiola, Akewusola, Adebanmwo, Unity, Oduduwa and Agberin streets, among others, while Hassan Street in Owutu and some other streets were affected in the Ikorodu area.
LASEMA's Emergency Response Team was dispatched for the assessment of the affected areas to avert further disaster. The flood was exacerbated by blockages of some of the major drainages in the affected areas."
It was also a sad tale in Ogun State as people not only lost their property, but important documents were also consumed by the flood as it was gathered that more than 200 residents were displaced after the floods destroyed about 50 houses in Unity Estate in the Ita Oluwo area of Ogun State.
A lawyer who lives in the estate, Paul Idogu, said all his credentials and property were destroyed by the floods and called for a quick intervention from the state government.
"When I woke up around 12pm, I saw floods entering into my house. I was totally helpless. All my credentials and documents were submerged by water."
Another resident, Engineer Christopher Okoro, said he was only able to salvage his television, which was hung on the wall.
"All other valuables, including my laptop, clothes, my wife's credentials, were destroyed. As I speak with you, I don't know what to do; I am stranded."
See more photos in Pulse Gallery.
JOIN OUR PULSE COMMUNITY!
Recommended articles
Top 5 largest economies in East Africa ranked
Meet the Sapeurs, Congolese who wear expensive outfits though they live in poor communities
Top 10 African cities with the highest purchasing power
10 African countries with the highest fertility rate in 2023
5 ways to spot a sex addict or know if you are one
Top 10 African countries leading in attracting and retaining talents
Top 10 African cities with the most expensive real estate
7 reasons women don't get wet even when aroused
4 African countries are responsible for 70% of the chocolate in the world