Skales tenders apology to wife after calling her 'the devil'
Last year, Skales called his wife the devil in the diss track, saying he never dreamed he'd end up marrying one.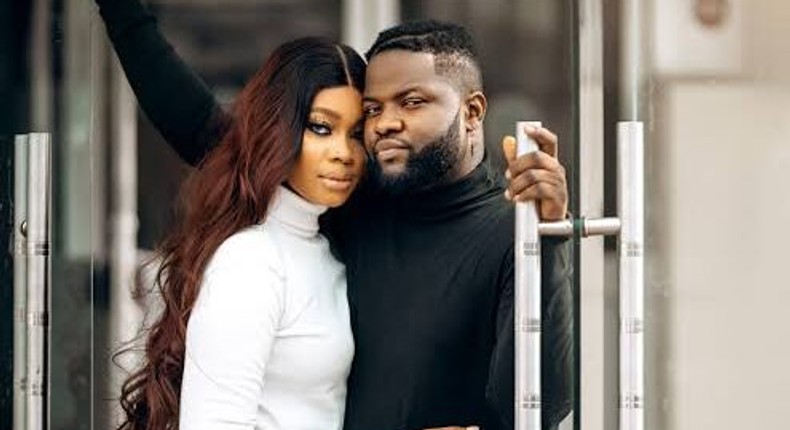 Singer Skales has apologised on his wife's birthday after referring to her as the devil a few months ago.
Using his Instagram account, he sent an apology to his wife and begged for her forgiveness for his recent public outbursts.
He released a song in November 2022 that made fun of his wife, Precious, while also expressing sorrow over her passing.
Skales also criticized his wife for her "pretense for the loss of his mother," who passed away the previous month, suggesting all wasn't well with his one-year-old marriage.
He admonished his wife to delete the post she had made about his deceased mother and advised her to act with genuine concern rather than acting for social media. The musician expressed anger and called his wife the devil in the diss track, saying he never dreamed he'd end up with one.
He claimed that she had the chance to save his mother's life but chose not to do so, and that instead, after she passed away, she posted pretentious messages of love on social media.
In the song, Skales also paid tribute to his mother, calling her a "queen with a golden voice" that he would never hear again.
Nevertheless, Skales acknowledged that it was a mistake to discuss their personal matters in public after deleting all the posts that were negative about his wife.
He admitted he's working on emotional self-control and promised to handle things better moving forward. Skales also wished his wife a happy birthday and conveyed his love, concern, and respect for her.
In his words, "Learning to control emotions and taking care of my mental health when life throws me down has to be one of the amazing life lessons I've learnt.
"We both made mistakes and I sincerely apologize for letting my grieving times get the best of me by bringing what should be our private life into the public eye, isn't an act I am proud of and I promise to keep progressing daily in my actions & becoming a better man in handling situations.
"Happy birthday my Queen @her_sanity11, I truly love, respect and care for you & I promise to do better! Cheers to most amazing year yet."
JOIN OUR PULSE COMMUNITY!
Recommended articles
Davido hints at possible collaboration with Wizkid
BBNaija's Nini says 'yes' to Saga as they take things to next level
Police arrest Portable after refusing to honour invitation
ISWIS, first African Podcast London live show ticket sold out in less than 3 hrs
Top 5 female directors in Nollywood
5 epic celebrity fights that will forever go down in history
Top 3 female producers reimagining Nollywood
7 of the most influential female filmmakers in Nollywood
Wizkid instructs his fans to stream Davido's album 'Timeless'
Manchester United identify Portuguese goal-machine Goncalo Ramosas Osimhen alternative
Giannis Antetokounmpo outshines Jordan Nwora as Bucks set record against Pacers
NPFL Review: Rangers continue to flirt with relegation, 3SC vs Plateau produce another classic
Arsenal reach first Champions League semi-final in 9 years with victory over Bayern