DJ Enimoney's wife Iwalewa shares cryptic message on Instagram
Iwalewa's posts may be sending signals of crisis in her marriage.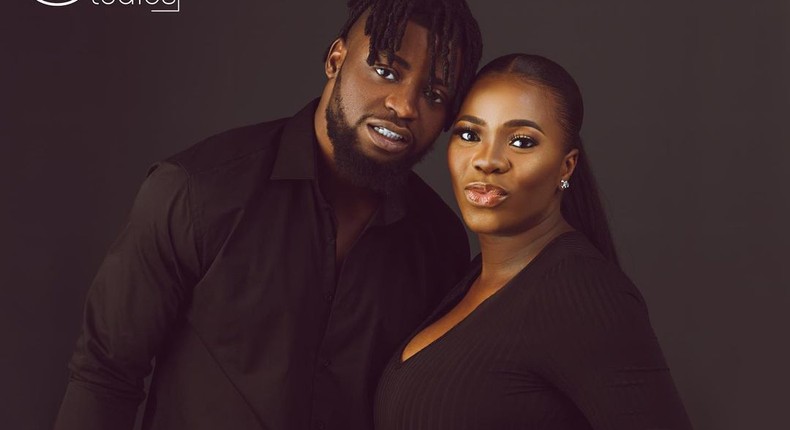 Iwalewa Adedeji the wife of popular Nigerian disc jockey, Enimoney has shared a cryptic message via her Instagram page.
The mother of two took to her Instagram page on Sunday, February 27, 2020, where she shared a lengthy message about some undisclosed events happening in her personal life.
"There are times when I wonder what I must have done to deserve such a story. I fear sometimes that when I die and meet with God, He will say I disappointed Him, or offended Him, or failed Him. Maybe He'll say I just never learned the lesson, or that I wasn't grateful enough. But one thing I know for sure is this: He can never say that He did not know me," she wrote.
"I am God's downstairs neighbor, banging on the ceiling with a broomstick. I show up at His door every day. Sometimes with songs, sometimes with curses. Sometimes apologies, gifts, questions, demands. Sometimes I use my key under the mat to let myself in. Other times, I sulk outside until He opens the door to me Himself."
Iwalewa continued to write about all the accusations she has made while also describing herself as a friend of God.
"I have called Him a cheat and a liar, and I meant it. I have told Him I wanted to die, and I meant it. Tears have become the only prayer I know. Prayers roll over my nostrils and drip down my forearms. They fall to the ground as I reach for Him. These are the prayers I repeat night and day; sunrise, sunset," she added.
"Call me bitter if you want to—that's fair. Count me among the angry, the cynical, the offended, the hardened. But count me also among the friends of God. For I have seen Him in rare form. I have felt His exhale, laid in His shadow, squinted to read the message He wrote for me in the grout: "I'm sad too."
"If an explanation would help, He would write me one—I know it. But maybe an explanation would only start an argument between us—and I don't want to argue with God. I want to lay in a hammock with Him and trace the veins in His arms."
"I remind myself that I'm praying to the God who let the Israelites stay lost for decades. They begged to arrive in the Promised Land, but instead, He let them wander, answering prayers they didn't pray. For forty years, their shoes didn't wear out. Fire lit their path each night. Every morning, He sent them mercy-bread from heaven."
"I look hard for the answers to the prayers that I didn't pray. I look for the mercy bread that He promised to bake fresh for me each morning. The Israelites called it manna, which means "what is it?" That's the same question I'm asking—again, and again. There's mercy here somewhere—but what is it? What is it? What is it?"
Iwalewa had earlier shared a post on her Instagram Stories wondering why her kids ''have to go through this' and how she would ''move on from here''.
Enimoney is the younger brother of Nigerian rapper, Olamide.
He rose to fame in 2016 with his debut single "Oya dab" which featured Olamide.
Adedeji is the official DJ for YBNL Nation.
JOIN OUR PULSE COMMUNITY!
Recommended articles
TOMTOM storms Jos with 'Breathe For It' Summit 2.0
Don Jazzy showers Davido with praises over his achievements
Portable Zazu announces the arrival of fifth child with Yoruba actress
Burna Boy thanks his sister for helping him sell out Wembley Stadium
I got my six-packs through hardship – Rema
Here is your first look at Chioma Akpotha's new movie, 'A Smile, A Wink and A Tear'
TY Bello is taking the Gospel to everybody through her music
Kehinde Bankole takes on her next lead role in 'Adire'
'I can never be pressured or shaken' - Iyabo Ojo tells government
Ese Brume soars to her best mark this season at ORLEN's Cup
Romelu Lukaku gives advice on how to stop racism in football
Victor Osimhen's unprecedented Capocannoniere
Chukwueze beats two Morocco stars and Ghanaian striker to LaLiga award