Pulse Digital Picks: MDaaS Global is unlocking diagnostics for Africa's next billion
#PulseDigitalPicks is a series that spotlights one digital service provider at a time, whom you can trust fully on the basis of their reliability and consistency.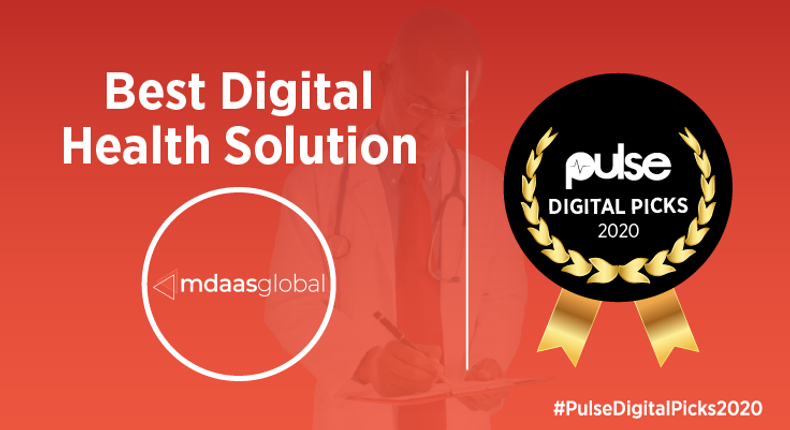 Digital sector in focus: Best Digital Health Solution
Pulse reckons with companies fusing technology into the administering of public and private healthcare.
One of such companies is the outstanding MDaaS Global, a leading healthtech company with the goal of unlocking modern diagnostics for Africa's next billion. MDaaS currently operates a network of tech-enabled diagnostic facilities across four states in Nigeria as well as a COVID-19 sample collection site in Ogun State.
Recently, and most relevantly, MDaaS created an innovative digital health product called SentinelX in response to the COVID-19 pandemic. SentinelX is an expert disease surveillance and health monitoring platform that helps employers minimize the risk of COVID-19 infection in the workplace and helps employees proactively manage their health over time.
Building a network of tech-enabled healthcare facilities
MDaaS was created to address the lack of high-quality, affordable diagnostic services available for sub-Saharan Africans, starting with Nigeria's over 200 million patients. Up-to-date health services are usually unavailable to many, and expensive out-of-pocket costs discourage patients in these parts. MDaaS leverages its vertically-integrated supply chain, technology platform, and patient-centered design to provide modern, convenient services at a price point patients can afford.
Through its diagnostic centers which operate under the brand name BeaconHealth Diagnostics, MDaaS offers a wide array of high-impact diagnostic procedures from simple malaria tests to echocardiograms and pap smears.
The company launched its flagship diagnostic center in Ibadan in November 2017. Following the success of this center, MDaaS has opened three additional facilities over the past six months in Ilorin, Osogbo, and Lagos. To date, the company has served over 25,000 patients. BeaconHealth is a preferred diagnostic provider for more than 250 health facilities, and more than 95% of surveyed patients would recommend BeaconHealth to a family member or friend.
Using technology to combat COVID-19 and improve employee health
With the lifting of lockdowns across the country, business offices, factories, and other facilities have started to re-open in Nigeria; however, the threat of coronavirus infection remains high. Outbreaks not only threaten the lives and wellbeing of employees, but can also lead to business shutdowns, resulting in loss of income and reputation.
Understanding these challenges, the MDaaS team saw an opportunity to innovate in the occupational health space. Last month, MDaaS launched SentinelX, a digital health platform to help employers minimize the risk of infection in the workplace and change the way companies think about employee health more broadly. SentinelX combines cutting-edge diagnostics, continuous disease monitoring, and telemedicine to help protect teams and businesses from the threat of COVID-19 today while also helping employees better manage their health over time.
Once a business signs on, MDaaS sets up a mini-clinic onsite to pre-screen employees for COVID-19 and underlying conditions associated with higher COVID-19 risk, such as diabetes and hypertension. Any suspected cases are referred to an NCDC lab for testing, while low-risk employees are approved to return to work. Thereafter, a dedicated Health & Safety Sentinel (a registered nurse) is placed onsite to screen employees for fever, difficulty breathing, and other symptoms every day as they enter the office. The onsite nurse also doubles as a primary care provider, providing medical advice to employees and referring patients to a SentinelX doctor (via telemedicine) when required.
These in-person touch points are combined with digital tools. Employers can view the overall health status of their staff and actionable insights for disease prevention via their online SentinelX dashboard. And, through the MySentinel mobile application, employees can track their clinical data over time, access personalized health management plans, and book telemedicine appointments for both COVID-related and non-COVID-related health concerns.
Shifting from sick care to preventative healthcare
Between global pandemics like COVID-19 and the steep rise in lifestyle diseases on the continent such as hypertension, diabetes, and heart disease, the need for preventative diagnostic services like SentinelX is greater than ever. An innovator in the field, MDaaS Global is shifting the role of diagnostics from reactive to preventative. Instead of waiting for a patient to fall ill, MDaaS Global seeks to help individuals continuously monitor their overall health to identify health issues and risk factors early on, when treatment options are greater and often less expensive, and even prevent the onset of diseases altogether. Coupled with the BeaconHealth Diagnostics network, SentinelX is a critical step toward MDaaS Global's vision of more personalized, continuous, and preventative healthcare for all Africans.
JOIN OUR PULSE COMMUNITY!
Recommended articles
3 important reasons why the withdrawal method is not enough
7 weird things that happen during sex, and they're normal
Soldier takes pregnant wife to hospital for delivery, beats up 2 nurses, breaks one's leg
Young Railways manager killed by moving train
Shatta Wale and Medikal go for 'sea bath ritual' after release from prison (WATCH)
Afia Schwarzenegger battles death as she cries for help on sickbed (VIDEO)
Paul Okoye shares Cubana Chief Priest's phone numbers as he continues to defend BBNaija's Maria
Make-up sex: Here is why you should have it after a fight
11-year old boy always isolates himself to cry as bullies call him crocodile (video)