Ex-VP will become Nigeria's President or die tryin'
Atiku believes it doesn't matter how many times a man falls, but how many times he's able to get back up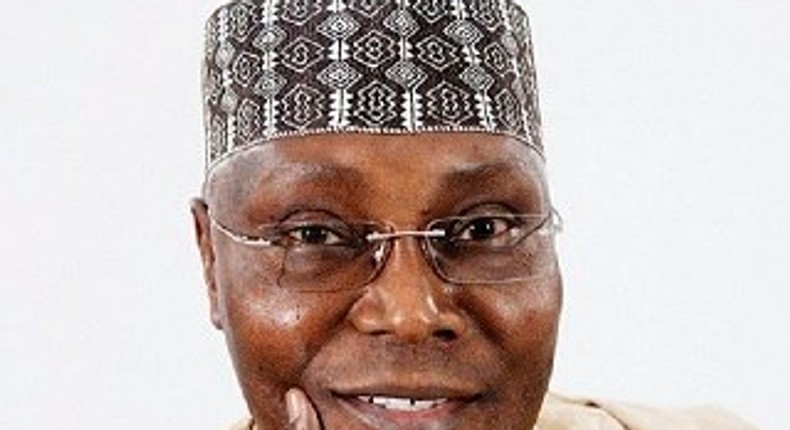 Former Vice President Atiku Abubakar, is driven by a burning desire to become Nigerias President.
It's an ambition that dictates every course of action the man has taken since Nigeria's return to democracy.
Atiku wants to be President so bad, he'll give an arm and leg to make that dream become reality.
It's also one ambition that may ultimately consume the man who harbours them.
And it hasn't been for want of trying.
Atiku was barely a year into his job as Governor of Adamawa State in 1998 when he was drafted into the PDP presidential campaign as Olusegun Obasanjo's running mate.
Obasanjo and Atiku prevailed.
'Baba Iyabo' (as Obasanjo is fondly called) would soon find out that Atiku was too ambitious for his own good. Most of the Governors elected on the platform of the PDP, were Atiku loyalists.
Atiku had also inherited the PDM political structure founded by the late  Shehu Musa Yar'Adua.
The PDM political machine was instrumental to PDP's electoral conquests of 1999. Atiku had all of the PDM structure in his back pocket.
Obasanjo was the first to recognise the Atiku political threat. The Ota farmer had one job as his first term wound down—begin cutting Atiku to size.
When Obasanjo sought for a second term, he couldn't help running to Atiku who was still the most powerful and smartest politician in the land at the time.
According to one version of events, Obasanjo went down on his knees as he pleaded with Atiku to support his second term bid.
Atiku acceded to Baba's request and Obasanjo got his second term.
If any agreement was struck between Baba and the Turakin Adamawa (Atiku's traditional title) that the latter should succeed the former as President, no one would tell.
But Obasanjo made sure Atiku didn't succeed him. He pulled out all the stops to thwart an Atiku Presidency.
Without the support of his boss, Atiku announced his presidential run on November 25, 2006 on the platform of the Action Congress (AC). Obasanjo made sure there was no space under the PDP umbrella for Atiku.
Atiku lost that presidential election to Umaru Yar'adua. He polled a distant third behind Muhammadu Buhari who ran on the platform of the ANPP.
2006 wasn't Atiku's first Presidential run, however.
In 1992, the elder Yar'adua had propped Atiku for the SDP Presidential primary. Atiku lost the SDP ticket to MKO Abiola and abandoned his Presidential ambition on the floor of the convention.
There was a gentleman's agreement that Abiola would announce Atiku as his running mate, but Abiola announced Babagana Kingibe as his running mate instead.
In October of 2010, Atiku announced yet another Presidential run. He had staged a return to the PDP after flirting with the AC.
Atiku lost the PDP presidential primary election to Goodluck Jonathan. He had garnered a paltry 805 votes to Jonathan's 2736 votes at the Eagle Square in Abuja.
But Atiku wasn't done just yet.
In February 2014, Atiku defected from the PDP to the APC in a bid to realise his dream of becoming Nigeria's President.
After the APC presidential primary ahead of the 2015 general elections, Atiku was left licking his wounds again. He was floored by Buhari at the party convention.
Buhari went on to become Nigeria's President, with the opposition APC handing the then governing party, PDP, a bloody nose during the general election contest.
Atiku retreated behind the curtains, but he has been doing enough to suggest he'll be back when another presidential contest comes around in 2019.
Atiku has set up his stall perfectly on social media, he's taken to philanthropy, he's become friends with the millennials, he lets you know when he's watching Arsenal play, he tweets like the rest of us, his PR handlers have been working overtime and he's began to grant more and more interviews to the mainstream media.
Plus, he boasts very deep pockets.
For Atiku, the mantra is-- become Nigeria's President or die tryin'.
Atiku belongs to the school of thought that says, it doesn't matter how many times a man falls, what counts is how many times he's able to get back up.
There've been insinuations that Atiku is working behind the scenes to float yet another political party ahead of the 2019 election.
For a man who has no scruples swapping one political party for another when it suits his cause, those speculations aren't entirely unfounded.
He's tried and failed in the past, but you can almost take this to the bank:
Atiku will run for President again in 2019—whether you back his bid or not.
JOIN OUR PULSE COMMUNITY!
Recommended articles
Kogi traditional rulers condemn attack on Governor Bello
Remi Tinubu takes up first official engagement as Nigeria's new first lady
Fire causes ₦‎40 million damage to Ebonyi court, exhibits lost
Secondary school in Bauchi with 350 students has only 3 teachers
100 students poisoned in Taliban-controlled Afghanistan
Remi Tinubu assumes office as Nigeria's first lady
Wike reveals response to potential appointment offer from Tinubu
‎Benue Governor orders removal of roadblocks on highways
Arewa group denies backing Kalu for senate presidency