Tinubu explains why he fell out with Lagos Governor
APC godfather Asiwaju Bola Tinubu says Ambode became a bad party man who no longer deserved his support.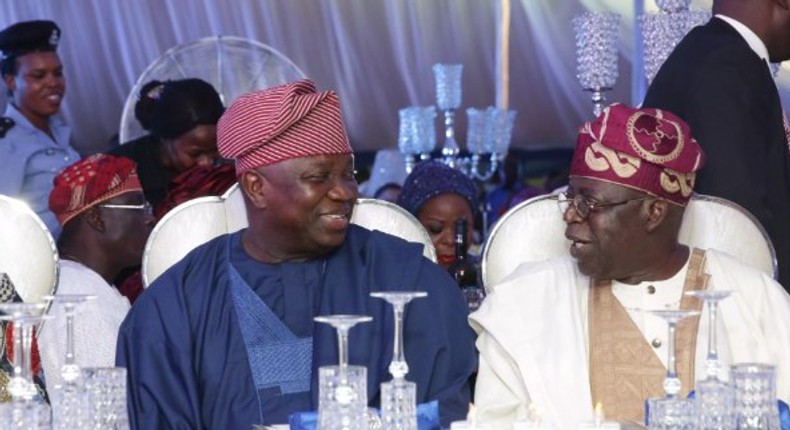 APC godfather, Bola Ahmed Tinubu, has explained why he withdrew his support for Lagos Governor Akinwunmi Ambode.
Tinubu is backing 53-year-old Chairman of the Lagos State Property Development Commission (LSDPC) and two-time commissioner, Babajide Olushola Sanwoolufor the number one job in Nigeria's commercial capital.
Speaking to journalists at Ward C in Ikeja Local Government Area, after voting at the primary election, Tinubu said Ambode became a "bad party man" who lost the support of party members.
According to Punch, when Tinubu was asked why he withdrew his support for Ambode, he said, "Who did I support in 2014? Ambode. Life is dynamic. It's those who made me the leader of the structure in Lagos who said it was what they want. It's only if you have followers that you're a leader in democracy.
"If I look back and I don't find them again; if I don't respond to them, if I fail to accede to their request, I would have failed the leadership test.
"This is not personal; it is beyond me as a person. Every democratic constitution is preceded by 'We, the people'. So, I had to submit myself to the wishes and the yearnings of our party.
"This is an elixir for the general election. Ambode Akin, he's doing well, yes; he hasn't been a good party man; not only the glamour, not only about brick and mortar. A talent is determined by character. For you to become an influential person, you have to respond to the yearnings of the people. This is politics; democracy, one man, one vote."
A meltdown seen round the world
The governor said his party members have been misled into supporting Sanwoolu and touted himself as the best man to take Lagos forward.
JOIN OUR PULSE COMMUNITY!
Recommended articles
FAAN denies attack on airport after multiple explosions in Maiduguri
Over 80 Civil Organisations hail Buhari's plans to end subsidy regime
Gbajabiamila inaugurates 1.6km link road in Ikorodu
Onaiyekan says Nigeria may split before 2023
Nigeria-Britain Association's annual lecture highlights critical role of Nigeria's Diaspora in socio-economic development
COVID: NCDC announces 197 infections, 2 deaths as Omicron variant hits 38 countries
WHO advises countries to prepare for likely spread of Omicron
FG approves COVID-19 booster shots amid Omicron variant
Falana faults review of Lagos #EndSARS panel's findings