If you reside in Lagos, Nigeria's commercial capital, you would have seen Mr. Babajide Olusola Sanwo-Olu, APC governorship candidate in the state, smiling or waving at you from a street corner, giant billboard or road median.
The man is practically everywhere.
The joke on social media these days borders on the ubiquity of the Sanwo-Olu campaign and posters. Social media users have told exaggerated tales of how Sanwo-Olu appears in their sleep, on the hallway, on a birth scan machine, on Ludo games, in cars, in far flung Nigerian cities and even on adult sites!
It is a testament to the virality and palpability of the Sanwo-Olu campaign.
Pulse takes a look at how Sanwo-olu went from zero to 100 on the 'instant name recognition' scale in just four months….
Money, plenty of money is a huge factor in campaigns
Seriously, if you don't have bags of money for a political campaign in these parts, just go home. Thank you. 
APC has controlled the Lagos economy through different name regimes since 1999. That should be a boost for anyone running on the APC platform in Lagos.
Sanwo-Olu has a bottomless vault of cash to draw from for his campaign, which can't be said for other contestants.
And that's a huge advantage for him.
All the 57 local councils in Lagos have basically surrendered their vaults to the APC campaign. Most of the billboards and posters are bankrolled by local government chairmen and political heavyweights across Lagos.
And trust us, Sanwo-Olu isn't complaining. 
Sanwo-Olu wants this job so badly
This writer has had the opportunity of interacting with Sanwo-Olu behind the cameras and from close range. He's as desirous of, and passionate about the job of governing Lagos, as the next man. 
There is a fire in his belly and a glint in his eyes when he talks Lagos. He's been in the Lagos administrative set-up since forever, in different capacities.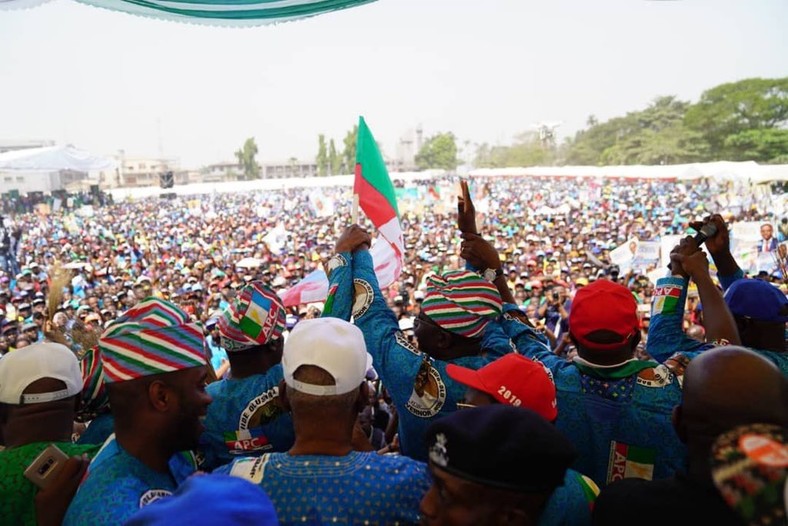 Here is a man who is only taking the chance presented him and campaigning like his life depends on it.
Sanwo-Olu isn't taking anything for granted even though he was always favorite to nail the job ab initio; even though he has all the money at his disposal.
The man is friggin' campaigning like the underdog!
A team of young crazies are behind this viral push
Inside Sanwo-Olu's campaign office on N0. 50 Awolowo way in Ikoyi, a group of social media and tech savvy Nigerians sipping on tea and coffee from paper cups, pore through hundreds of social media feeds daily, pick out the trending topics of the day, analyze a trove of data and decide how best to insert the APC Lagos governorship candidate into trends, GIFs and everything in between.
They also work remotely, bouncing off ideas on WhatsAPP groups and Direct Messages and deciding how best to respond to a slur.
Sanwo-Olu also receives instant feedback and they have made him Twitter savvy as well, prepping the candidate as he takes live questions from Twitter users and grants television interviews. He sticks to a strict media and campaign schedule drawn up by his hipsters.
Sanwo-Olu has also embraced technology, telling this writer and other journalists during that meet in November that even though he found out about the huge potential of information technology very late in the day, he'll do everything within his powers to make Lagos the ICT hub of the continent. The power of the internet, he says, fascinates him daily.
That dream is already being portrayed in his campaign.
On social media, the Sanwo-Olu campaign laughs with you when you laugh at the man.
Grassroots support is everything in a campaign
The APC maintains such a fierce grip on grassroots politics in Lagos, it's scary. Sanwo-Olu is now the ultimate beneficiary of that merciless APC grassroots machine.
From the suburbs of Okokomaiko, Ajegunle and Iyana Ipaja, to the gleaming cobbled streets of Ikoyi, Lekki and Victoria Island, the APC at the grassroots is willing to donate a leg and arm for Sanwo-Olu to emerge governor in March.
Most of the posters and billboards assailing you wherever you turn in Lagos are actually paid for by neighborhood associations and campaign support groups. 
It is little wonder that the Sanwo-Olu campaign is on such a high (Oops).