Ghanaian pastor bathes in church and members line up to drink his bathwater for anointing (video)
As the year is grinding to an end in just some few days and people become more and more desperate for last-minute breakthroughs, some pastors are also matching them boot for a boot with their shenanigans.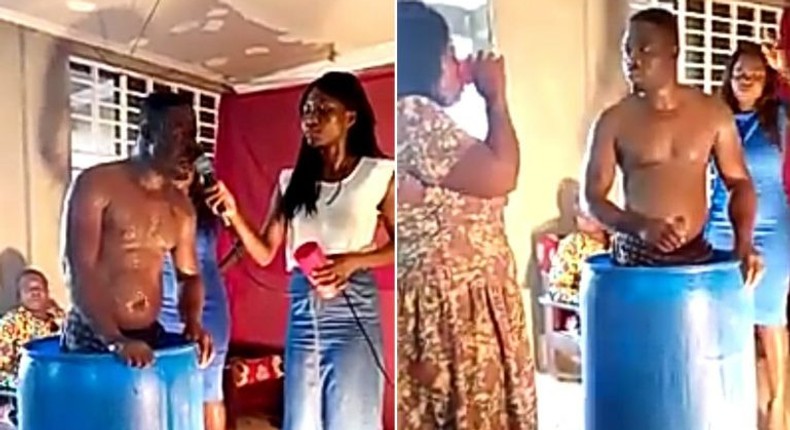 In the viral video, the pastor of the church he referred to as the 'Endtime Church Of Nations' could be seen standing inside a blue barrel containing water while wearing boxers shorts.
He then submerges himself in the barrel full of water several times before instructing the onlooking church members to queue up for what he referred to as anointing.
Amazingly, both male and female congregants did not hesitate to line up and drink the bathwater from a cup as the pastor served them.
JOIN OUR PULSE COMMUNITY!
Recommended articles
Oyo Jailbreak: NCS releases names and photos of 122 fleeing inmates
Drug Addiction: NDLEA to establish 6 standard rehab centres in Nigeria
Ortom presents 2022 budget of N155.61bn to Benue Assembly
NNPC gets FEC's approval to deploy N621.2bn tax liabilities to road projects
Jesus College returns Benin Bronze stolen from Nigeria 124 years ago
Media group to honour 50 youths for protecting Festac Town against vandals during EndSARS protest
FG disburses cash to 15,768 households in Anambra
Gunmen invade palace; kill 6, raze houses in Kogi community
NCAA to sanction airlines for allowing unauthorised passengers into cockpit