Why there's high rate of divorce in Nigeria – Stakeholders
Some Nigerians have identified infidelity, lack of trust and barrenness as some of the major factors contributing to high rate of divorce in the country.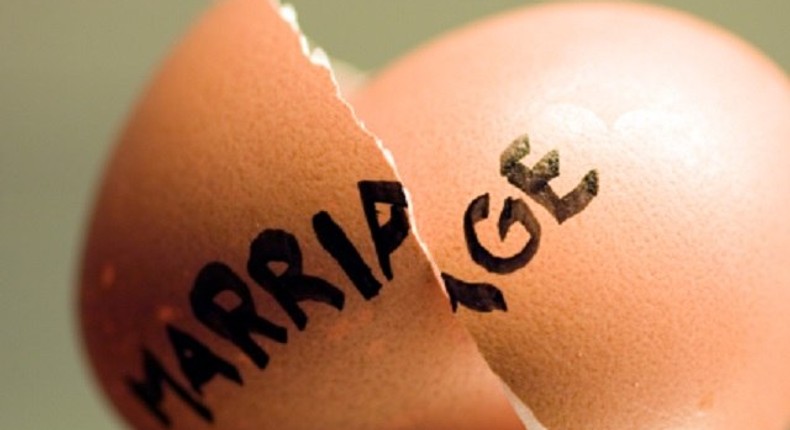 They stated this in separate interviews with the News Agency of Nigeria (NAN) in Jos on Wednesday.
Chairman, Christian Association of Nigeria (CAN), Plateau chapter, Mr Polycarp Lubo, said that mutual suspicion, irresponsibility and lack of mutual respect could also be part of the reasons for divorce.
According to him, sin is now the order of the day while lots of people no longer value their marriage oaths.
He said that the country's economic situation might also be a contributory factor to divorce rate.
"The family as the smallest unit has lots to do in grooming young adults for marriages and if that is ignored, the foundation can be affected.
"Parents should instill moral values in their children.
"God is the solution to all problems, including divorce and so doing things in His way is the solution," he said.
Justice Yahaya Mohammed, of Plateau Sharia Court of Appeal, said that some of the causes of divorce could be finance and high expectation that could not be met.
He also said that neglect, poor communication and lack of love in the marriage could lead to infidelity and divorce.
Mohammed advised intended couples to possess good communication skill and love in order to tackle the challenges that could lead to divorce.
"Some women went into marriage with very high expectations while some men concealed their true economic status from women to gain acceptance," he said.
The appeal court justice advised couples to ensure transparency in marriage and be honest in their relationship with their spouses.
Also, Mrs Vivian Abara, of Peace Advancement Action against Violence and Rape Foundation, an NGO, said it was regrettable that infidelity had been twisted.
"In those days, infidelity was a taboo but now, it is celebrated by some people, as they give reasons for cheating on their partners," she said.
Abara urged married people to be contented with their partners, practise what would promote love and help them bond better.
She added that couples should be matured enough before going into marriage.
Also, Mrs Ngozi Eze, a divorcee, claimed that she divorced her husband because he was allegedly cheating on her.
In her view, a housewife, Mrs Mary Utah, said that Nigerians believed that only men could be unfaithful.
Utah added that society should frown at infidelity, regardless of who might be involved in the act, adding that it was a sin against God and man.
JOIN OUR PULSE COMMUNITY!
Recommended articles
UN chief appoints Adesina, others to spearhead fight against malnutrition
Sanwo-Olu vows to give Lagos biggest children hospital in Africa
Kano Govt sets up mobile courts to tackle phone snatching
Withdraw petition against Tinubu and stop messing up - LP faction tells Obi
Tinubu commissions NASS Central Mosque, urges Muslims on humility
Anambra govt launches e-identification cards for civil, public servants
Tearful Ondo Speaker dissolves state assembly
Hajj: NAHCON reads riot act to caterers in Madina, disqualifies defaulter
Court admits Obi's exhibits of 6 states in evidence against Tinubu