'They are frustrating my husband's govt,' Aisha Buhari cries out
In October 2016, Aisha Buhari openly criticised the President saying that she might not support his 2019 re-election bid.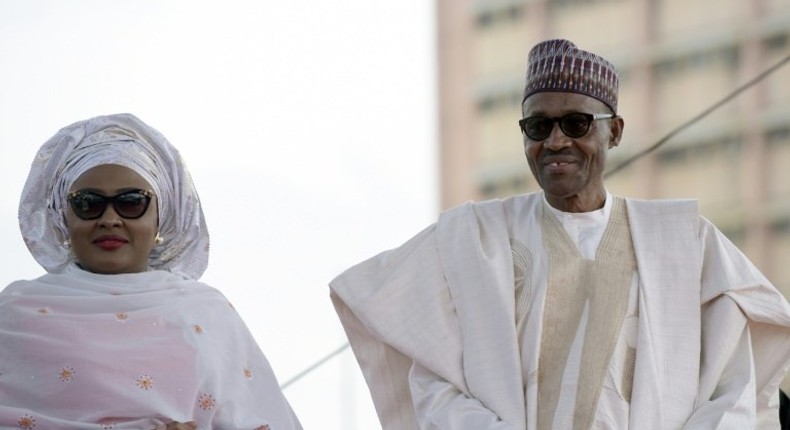 The First Lady, Aisha Buhari has alleged that two powerful are preventing President Buhari's government from moving forward.
The First Lady, who described them as retrogressive elements,  said that they have become clogs in the wheels of development of the current administration.
She said this while speaking at a conference organized by Project 4+4 in Abuja, according to Vanguard,
" I have realized that Sen Babafemi Ojodu, Special Adviser political to the President, and Dr. Hajo Sani, my aide Sajo and wife of the Vice-President Mrs Osinbajo are not comfortable with my saying this and want me to confine myself to my prepared speech but we must say the truth," she added.
Mrs. Buhari also told those present that the government has made a lot of progress, but would have achieved more if not for the two men.
The First Lady did not mention the names of the men she was talking about.
Buhari's government hijacked
She also claimed that some people have hijacked Buhari's government.
"The president does not know 45 out of 50, for example, of the people he appointed and I don't know them either, despite being his wife of 27 years.
""Some people are sitting down in their homes folding their arms only for them to be called to come and head an agency or a ministerial position.
"…If things continue like this up to 2019, I will not go out and campaign again and ask any woman to vote like I did before. I will never do it again," she said.
Mrs. Buhari also alleged that a 'powerful caucus' is behind the presidential appointments.
Recently, the First Lady vehemently kicked against the practice of giving automatic ticketsto people by the All Progressives Congress (APC).
Aisha Buhari also accused the APC chairman, Adams Oshiomhole of condoning impunity and threatened to dissociate herself from the party if it continues.
JOIN OUR PULSE COMMUNITY!
Recommended articles
Niger Delta Integrity Group denies calling for Gen Ndiomu's sack
Dino Melaye calls out CJN, asks him to resign following his 'scandalous conduct'
Amnesty boss seeks support of traditional rulers to reform programme
5 times Aisha Buhari has been in the news for controversial reasons
Labour Party's women leader assassinated in Kaduna State
BREAKING: Court sentences IGP to 3 months in prison
Aminu Adamu maltreated in detention, no medical attention – NANS raises alarm
BREAKING: Labour Party fires Tinubu, challenges him to debate with Obi
Chinese military says U.S. cruiser trespassed into waters off Spratly Islands
Get our Top Stories delivered to your inbox