Japa not only path to success, Nexford CEO urges graduates
The 2023 graduation event of the university witnessed master classes, a career fair with Nigeria's leading companies, a start-up demo and an exhibition in Lagos State.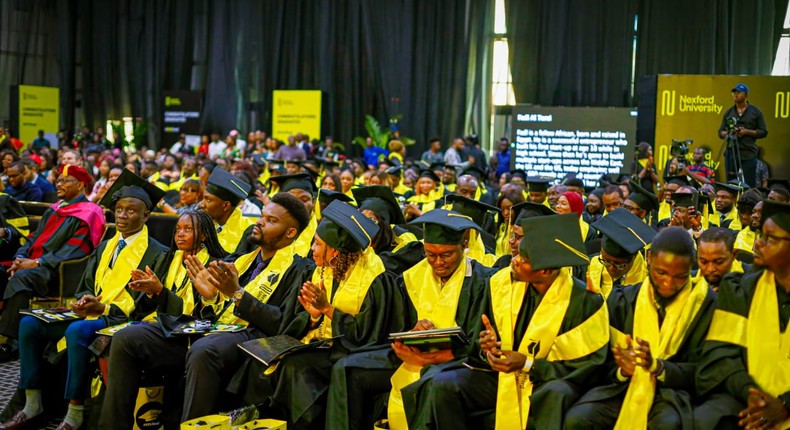 Chief Executive Officer of Nexford University, Fadl Al Tarzi, has cautioned Nigerian graduates against travelling out of the country.
According to him, Africa has the potential of becoming the largest supplier of global workforce in nearest future.
The Nexford CEO also expressed confidence in Nigerian students, hailing their resilience and commitment to research.
He made this known while speaking at the school's graduation ceremony which took place at Landmark Event Centre, Victoria Island, Lagos on Saturday, September 30, 2023.
He said, "Take control of your destinies and forge your paths with determination and creativity. Remember, Ja-kppa is not the only path to success. In this era of remote work, jobs are transcending geographical boundaries, and Africa with its youthful population, is poised to be the cradle of tomorrow's global workforce. There is an undeniable truth in this, Africa is where tomorrow's workforce will come from.
"Our ancestors have traversed continents, shaping economies and societies. Nigerians in the United States are, on average, twice as educated as the average American. It is time for you to ascend to leadership, to redefine perceptions, and to engrave your marks on societies, whether here in Nigeria or beyond your borders.
"If your journey takes you to foreign lands, remember, you are the architects of perceptions, the ambassadors of our values. Make those lands realize the privilege of hosting Nigerian talent. Showcase your superior skills and let the world witness the value you add, the legacy you create."
For her part, Nexford Country Director, Oghogho Inneh, noted that the university's standard e-learning platform and flexibility in learning stand it out among it peers.
"Our programs are future-focused and competency-based, enabling learners to build practical skills they will use to get ahead in their careers. And with no fixed class times, they can flex their learning to fit their schedule. Tuition fees are charged monthly, so the faster learners graduate the more money they save," she added.
The 2023 graduation event of the university witnessed master classes, a career fair with Nigeria's leading companies, a start-up demo and an exhibition in Lagos State.
Also, five Nigerian students were awarded during the graduation ceremony. Among them was James Ogo-Oluwa Osinowo who emerged as the Valedictorian of the Year for Class 2023.
Others awarded were Adeshile Oluwabusayo who emerged as the Best Peer Mentor for BBA (Undergraduate Degree) and Monsuru Adebayo Popoola, Best Peer Mentor MBA (Graduate Degree).
While Daniel Oreofe was also awarded the Outstanding Volunteer of the Year, Sonter Samuel James emerged as the Outstanding Brand Ambassador.
During the start-up pitches and exhibition, seasoned experts like Iyin Aboyeji of Future Africa, and Napa Onwusah, Leader for AWS Startups in Africa among others tutored the graduates.
The master class sessions centred on building and scaling a startup, designing a fulfilling career, becoming globally relevant, sales skills for founders and succeeding in a remote job environment.
Speaking, Dr Obiageli Ezekwesili, a former Minister of Education, said academic institutions like Nexford would help Nigeria fix human capital deficiencies.
Ezekwesili, a board member of NXU, noted that the university is one of the global institutions that have visibly given the skills that are necessary for the 21st century.
"If we increase our Gross Domestic Product and we spread the sources of our GDP, what we will have is inclusive prosperity, so we must have graduates of this kind from as many institutions as possible," she noted.
Tonye Cole, Co-founder/former Group Executive Director, Sahara Group, in his keynote address, urged the graduates to expect challenges as they move to the next phase of life.
He said, "Do not be afraid to fail, even when you do, start again, try again and retrace your steps and be courageous for every success story has stories to tell.
"You have to decide on your own but you must seek wisdom to guide your steps, this is key because it is what you need to navigate the world and keep your eyes on your goal."
JOIN OUR PULSE COMMUNITY!
Recommended articles
APC aims for victory in Edo 2024 elections – Senate President Akpabio
NASS will address Nigeria's security for rapid socio-economic development - Sen. Jibrin
FCTA committed to support, nurture talent for sustainable economic growth - Wike
FG promotes 32,361 personnel across Immigration, Civil Defence, Fire, & Correctional Services
We're making efforts to rescue remaining 4 abducted FUDMA students - Police
Usage of obsolete equipment by FRCN, NTA is unacceptable - Minister Idris
We're making efforts to rescue remaining abducted FUDMA students – Police
BUA Group Chairman Rabiu declines APC standing committee nomination
Malta Guinness crowned iconic malt drink of the year at the 2023 Brandcom awards
Shelly-Ann Fraser-Pryce: Track legend signs mouthwatering deal with luxurious wristwatch brand
Sha'Carri Richardson: World's fastest woman reportedly bags $20,000,000 endorsement deal
She needs a break - Super Falcons coach explains Ashleigh Plumptre's absence from team
Sergio Ramos makes Champions League history 31 years after Daniel Amokachi
Thiago Silva recalls TB fright ahead of Chelsea debut