Why is Ex-VP first to commend Buhari for withdrawing case against Saraki?
Atiku seemed in a haste to commend Buhari for withdrawing forgery case against Saraki. Nigerians wonder why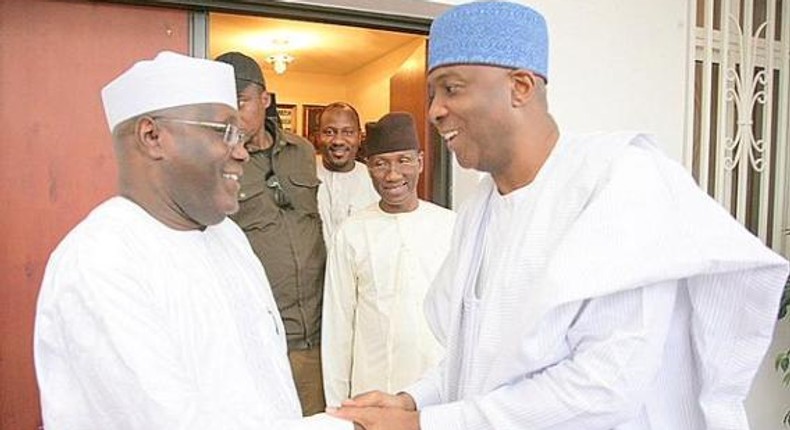 It is no longer news that the Federal Government of Nigeria has
The duo was accused alongside Salisu Maikasuwa, former clerk of the National Assembly and Ben Efeturi, former Deputy Clerk, of forging the senate standing rules.
It is however curious and newsworthy that just moments after the case file against the duo was withdrawn, waiting to commend the Muhammadu Buhari led federal government for the act was former Vice President Atiku Abubakar.
It appeared Atiku couldn't wait to get the commendation off his chest.
"It is an indication that the government values the much-needed cordial relationship between the Executive and Legislature and would take steps to ensure that it remains harmonious in the interest of the nation, and the advancement of our democracy", Atiku said in a statement sent to Pulse.
Nigeria's former Vice President also said the withdrawal of the charges will smoothen what he regards as a frosty relationship between the Executive and the Legislature.
Said Atiku: "It is only in the situation of harmonious, cordial and cooperative relationship between the three arms of government that real progress and development can take place in the polity.
"All hands need to be mobilized to tackle the current economic difficulties in the country, and get the nation out of economic recession...both the Executive and Legislature need to come together to find solutions to the current economic recession by eliminating all issues that promote strife and mistrust.
"Political crisis does little or no good in a democracy. All individuals and political forces in the country that still have issues, should come together and resolve their differences for the good of the nation and the APC.
"President Muhammadu Buhari is a statesman and a Man of Peace. The decision by the Executive to end the disturbing allegations against the Senate leadership opens a new page in the relationship between the Executive and Legislature and was forthcoming because President Buhari has never been comfortable with actions or issues that unnecessarily heats up the polity", Atiku gushed.
A few Nigerians who spoke to , questioned the motive behind the Turakin Adamawa's hasty commendation of the President.
Said Ademola Abayomi, a Lagos based lawyer: "This shows you that the political class is one big clique. They are taking us for a ride. They know what they are doing. This is embarrassing, but I'm not in the least surprised because Atiku isn't a clean man himself. The corrupt only look out for themselves".
A businessman who simply identified himself as Ugochukwu dissolved into throaty laughter before saying: "Isn't it the same Atiku? He has just proven that he's in bed with corruption. Why won't he stand by an allegedly corrupt Saraki? My brother, abeg make I go find how to make my small money for dis recession", he said in smattering English.
Josephine Ebughe, a civil servant, however said she read nothing into Atiku's Commendation: "He has a right like everyone else to free speech. Let's cut the man some slack please".
But Sani Abubakar, a banker, was a lot more direct: "Remind me how Atiku made his money again? Why won't he defend corruption?"
The federal government has said it only withdrew its forgery case against Saraki and Ekweremadu undefinedwas already before another court of coordinate jurisdiction.
Buhari, Saraki and Atiku all belong to the governing political party at the center, APC.
JOIN OUR PULSE COMMUNITY!
Recommended articles
Aviator casiso game review
Kano Governor-elect, Yusuf, promises people oriented democracy
Zimbabwe sets aside $24m to combat cholera
Gov. Mohammed, 31 Bauchi lawmakers-elect to get Certificates of Return Friday – INEC
Buhari swears in Arase as PSC Chairman, 5 Board members of CCB
5 laws that still discriminate against Nigerian women
Kogi 2023: Melaye vows to end corruption and violence
Governor Sanwo-Olu lauds Tinubu's sacrifice for Nigerian democracy
Osinbajo prays for 'more wisdom' for Tinubu on 71st birthday
Victor Osimhen: Where should the Super Eagles striker go this summer?
Peseiro chasing Rohr's feat as the Super Eagles resume campaign
Nigerian sensation Gift Orban wanted by AC Milan and Napoli