Group alleges that FG is shielding some powerful ex Generals
They called on the government to probe the ex-Chief of Army Staff and interior minister, Gen. Abdulrahman Dambazzau, Gen. Azubuike Ihejirika and Gen. Kenneth Minimah.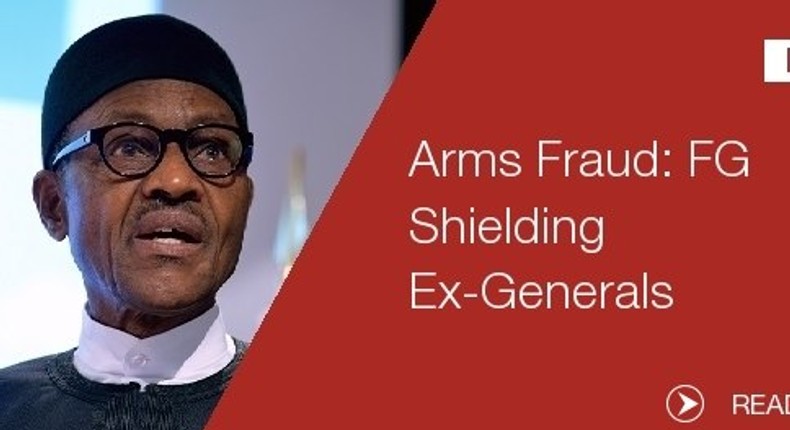 A group under the aegis of
They called on the government to probe the ex-Chief of Army Staff and interior minister, Gen. Abdulrahman Dambazzau,Gen. Azubuike Ihejirika and Gen. Kenneth Minimah. 
The group also alleged that the government is trying to cover up some information from the arms deal probe.
PWDI cited the minister of information, Lai Mohammed's statement where he said only the report of the audit on arms deals from 2011 – 2015 was released as proof of government's cover up.
They wondered why the arms deals from 2007 – 2010 has not been investigated, and the report released.
Daily Post reports that the group's spokesman,  Danladi Abbas, issued a statement saying "Questions that readily come with this addendum to his previous statement are: what manners of documentations are done in our Defence sector? Is it that hard or soft copies of procurement documents of 2007 – 2010 are "not available" one year after a panel was set up to look at and scrutinize them? What procedures were deployed to get the 2010 – 2015 documents that couldn't be applied for the preceding years?
"How does it portray us to the world that Nigeria cannot keep and retrieve a seven-year old record in its defence system and still struggling to locate and collate them one year after it embarked on a search? Lai Mohammed's follow-up statement, apparently an afterthought and perhaps unknown to him, has dimmed the pride of our soldiers, portraying them as untidy, lackadaisical and careless. This is certainly not true of them.
"General Abdulrahman Dambazzau took over from General Luka Yusuf in 2008 and left in September 2010. Are we saying that during his almost three years as Chief of Army Staff, documentations were neither properly done nor well preserved(when done)? Or that nothing was procured ? If things were bought, were they done verbally? That itself would be a malfeasance. Were they eaten up by Wharf rats or consumed by unrecorded inferno?
"We are aware that the report presented to the President for approval was a summary distilled from an enlarged report. We challenge the Minister of Information to publish that volume and its appendix.
"The irony is that Generals Azubuike Ihejirika and Kenneth Minimah have in between them over 30 items of misdemeanors slammed against them, ranging from alleged 'misappropriation, misapplication and negligence'. What about all the petitions that were written, sent in and acknowledged about this 2008/2010 regime at the Army headquarters. We are aware there were about 26 petitions last year alone.
"We are not talking about those preceding that period, those written against him immediately he left office. From this Interim Report on the Army seen so far, nobody is sticking his neck out stoutly defending the immediate past two Chiefs as they would have their days either with the post fact- finding investigators or possibly the court to defend themselves on these allegations.
"Recall that in setting up the 13-member panel last year, the President's spokesman Femi Adesina listed among others that 'the committee will specifically investigate allegations of non-adherence to correct equipment procurement procedures and the exclusion of relevant logistics branches from arms procurement under past administrations, which, very often resulted in the acquisition of sub-standard and unserviceable equipment.'
"Accordingly, the latitude of this mandate is enough to catch the smallest fish in the water. The books and equipment are there. They should go back and look at them. Nobody is prompting them to manufacture sins but the sins of those three years are certainly there.
"It is beginning to look like once one takes up an appointment, he acquires immunity from probe and prosecution. Some former governors who are now ministers were petitioned but they have not been known or seen to have been investigated. A sitting Service Chief was quickly cleared by the Defence Minister hours after an online publication ran a story on acquisition of property outside the country.
"More bizarre was the clearance by the Code of Conduct Bureau, an agency that has never before now honoured any inquiry directly or through the Freedom of Information Act. And now this. Is this regime shielding its Army Chief, Interior Minister, and others from scrutiny on alleged corruption and other infractions?"
The former National Security Adviser (NSA), Sambo Dasuki has been on trial allegedly for misappropriating funds meant for purchase of arms.
Probity Watch in Defence Institutions (PWDI) is made up of civil society groups and retired military personnel.
JOIN OUR PULSE COMMUNITY!
Recommended articles
FG sponsored only 422 delegates to COP-28 in Dubai — Presidency
Alex Otti charges physically-challenged persons in Abia to resist discrimination
Police narrate how suspected cultists buried ex-community chairman alive in Rivers
NSCDC boss urges security operatives to shun inter-agency rivalry
Federal Government resumes trial of suspected Boko Haram members
FCT Area Councils, others share ₦4.96bn statutory allocation for October
APC Chieftain criticises Tinubu's appointment of Wike as FCT Minister
FG settles ₦52m fines, compensation for 399 inmates in Kaduna
Kano NCS generates ₦6.9bn revenue in November
Shelly-Ann Fraser-Pryce: Track legend signs mouthwatering deal with luxurious wristwatch brand
Sha'Carri Richardson: World's fastest woman reportedly bags $20,000,000 endorsement deal
She needs a break - Super Falcons coach explains Ashleigh Plumptre's absence from team
Sergio Ramos makes Champions League history 31 years after Daniel Amokachi
Thiago Silva recalls TB fright ahead of Chelsea debut