Reps say minister is not performing well, threaten zero allocation for his ministry
The House said the budget presentation and performance of Amaechi's ministry presented before the joint committee is not impressive.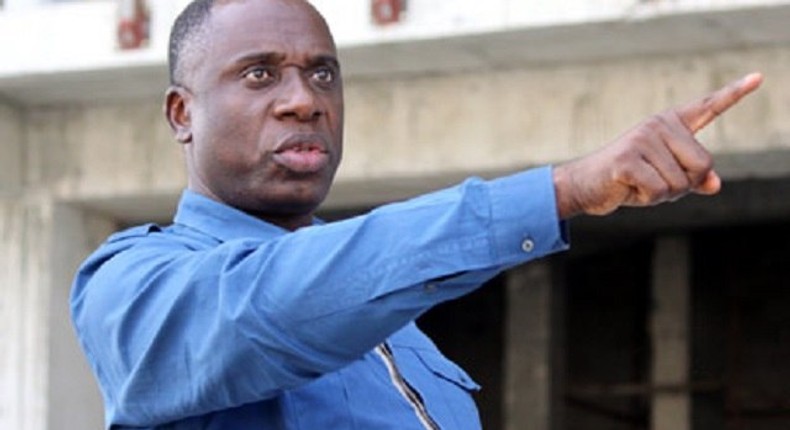 Four committees of the House of Representatives have faulted the implementation of the ministry of transportations 2016 budget.
The committees on Tuesday, April 4, jointly expressed dissatisfaction over the ministry while visiting its headquarters in Abuja
The committees on aviation; land transport; maritime safety and administration; ports, harbours and waterways had visited the ministry, which is led by Rotimi Amaechi, on oversight function.
Chairman of the committee on Maritime Safety and Administration, Mohammed Bago, said the ministry presented different documents to the committees, and the documents did not contain facts.
Bago said that the ministry received N243 billion in 2016, and has not exhausted it, adding that if the money is not used before the end of the month, it will receive no allocation in 2017.
He said: "The different positions made to the committee of the house on both land transport, ports and harbour, maritime safety and administration as well as aviation has varied.
"We have received three different documents till date and all of them are not consistent and that is why we have asked for a new document to ascertain the value of what this project is all about.
"We are not going to appropriate on this budget until we have the fact and figure and if we do not have the facts and figure, the ministry of transport will get zero allocation.
"They have received 243 billion and they have not spent it when ministry of health needs money because people are dying of meningitis, Nigerian soldiers are dying in Sambisa, no money to fund the soldiers.
"The ministry of transportation is seating on billions of Nigerians' naira released to it and is not utilised."
On his part,  Chairman of the committee on ports, harbours and waterways, Patrick Asadu, said members are at the ministry to ensure that money given to the ministry is well spent.
He said the money allocated to the ministry is not well spent.
He said: "Our being here is to help the ministry to ensure that money given to it was spent for what it was given for.
"But when this money is not well spent, we are not going to release further money; we are trying to look at what happened in 2016 budget; we are insisting that the ministry spends it or we give it to other agencies."
According to the chairman, the direct expenditure of the ministry is zero performance in terms of budget implementation.
JOIN OUR PULSE COMMUNITY!
Recommended articles
NLC, TUC suspend strike after meeting with FG
Ibadan philanthropist donates 2 transformers to support Makinde's govt
Deputy Senate President: What Barau Jibrin will bring to the 10th Assembly
Akeredolu immortalises victims of Owo Church attack with memorial park
BREAKING: Court restrains NLC, TUC from going on strike
Judge frowns on invasion of his privacy over Stella Oduah's ₦‎5bn fraud case
Governor Mbah begs Enugu residents to fight IPOB's sit-at-home intimidation
Amaewhule emerges as Speaker of Rivers 10th Assembly
Suspected political thugs assault PDP chieftain as tribunal sits in Ogun