Japanese fire celebration [PHOTOS]
The Obon festival is a Buddhist event held annually for the purpose of honouring one's ancestors.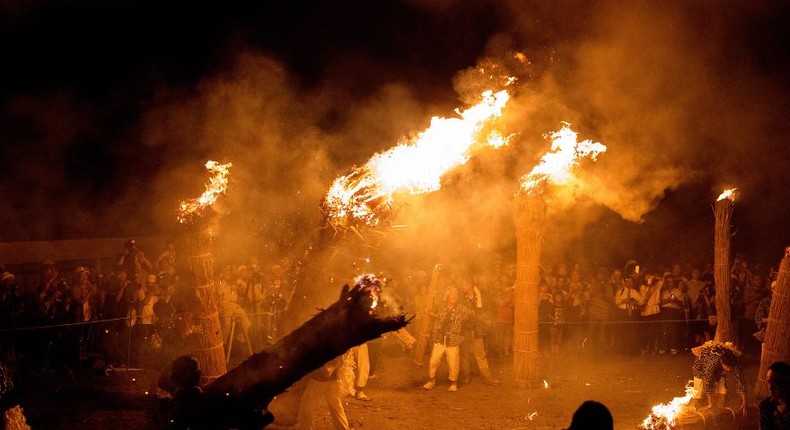 The Obon festival is a week-long festival held in the middle of August annually.
It is believed that the spirit of the ancestors return to the earth during that period. The Obon week is one of three important holiday periods in Japan.
Increased travel and accommodation rates are recorded during this period as many people troop in to celebrate the festival.
The Obon customs vary from region to region, and there may be slight variations in the dates the festival is celebrated.
Hidenobu Suzuki, Japanese photographer and beautician took awesome photos of some participants shown brandishing a flame as they celebrated.
The Obon festival  celebration feels like a national holiday, with large numbers of people travelling in and around the country to observe the religious rites.
This festival that took place on August 15, 2016 in Aichi Prefecture Shinshiro was to mourn the deceased Shingen Takeda and over 10,000 deceased in the battle of Nagashino in the Warring States era.
This festival, which has continued for over 400 years, is a memorial service of the war.
JOIN OUR PULSE COMMUNITY!
Recommended articles
Trace to set the African music scene ablaze with first Trace Awards & Festival in Kigali
Study shows men have been peeing wrong; they ought to sit and not stand
Denola Grey is one of the new faces of Fenty Beauty
How to survive the rising cost of petrol and transport in Nigeria
7 incredible health benefits of bitter kola
5 most fashionable plus-size celebs in Nigeria
See the forest in Ondo where masquerades are forbidden
Blow by blow of how Hypo made an all - white impression at the AMVCA 2023
3 foods believed to have spiritual significance
You should visit 5 of Africa's most popular and historic markets
The scary and toxic side of applying sunscreen every day
YAPPI: Opportunity for youth empowerment through animation, post-production industry