Pre-colonial Nigerian cultures: Hairdressing as a work of art
Historically, care and presentation of African hair was expressive, over-the-top and beautiful.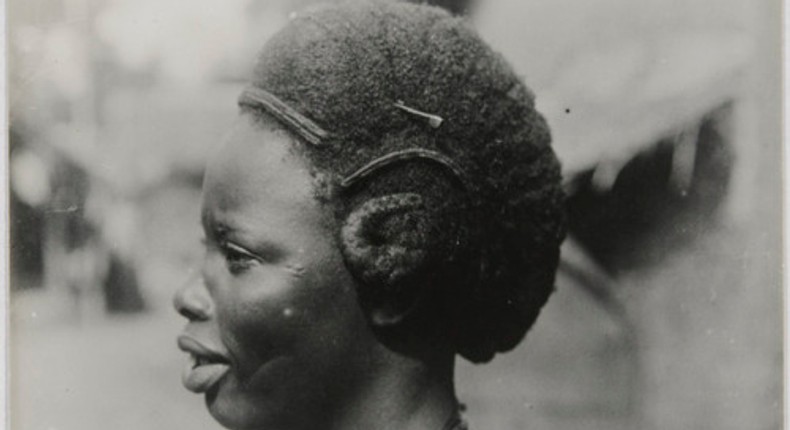 African hair possesses a personality of its own.
Long before care for natural hair became mainstream, precolonial cultural groups used hair as means of identification, beautification and basically, craftmanship.
Some Nigerian ethnic groups were known for their distinct hairstyles in precolonial times. They consisted of pleating, plaiting, and top-knots, and the inclusion of other objects in form of elaborately carved woods or ivory combs, strings, cowries and wigs of human hair. Here are pictures that show the magnificence of African hair.
Igbo
According to Ukpuru, "The crested hairstyle ojongo was popular until the mid-20th century, it is a distinctive feature of Igbo arts depicting women. Women used ornaments like thread, feathers, shells, bone, wood, beads, Igbo currency, coins, or cloth; mud containing colourful ores, yellow and red camwood powder or paste and palm oil and charcoal were also used for style."
Sometimes, thread was used to create the hairstyle, called Isi owu, and it is still common among some women till today. 
Ukpuru
For the big structural hairstyles that used charcoal dust and palm oil, the hair had to be cut away entirely as it cannot be undone, according to G. T. Basden in his 20th century expose, Among the Ibos of Nigeria.
Ukpuru
Fulani
The ancient Fulani hairstyles mainly consisted of mo-hawk-looking structures that spread all through the areas the nomadic people passed. They usually make use of threads and beads to get the full look, a look that has endured the
Pinterest
JOIN OUR PULSE COMMUNITY!
Recommended articles
Binance Charity joins Giving Tuesday Global Movement, in support of UNICEF
Augustine Nosa wins Goldberg's Ariya Omoluabi Music Talent Show
10 dirty things you should whisper into your partner's ears to make s*x more enjoyable
Women Teach S*x: Casual s*x with Nigerian men 101
5 other nuts you should try apart from groundnuts
Cucumber: The health benefits of this fruit will leave you speechless
Avoid these foods if you want to perform your bedroom duties better
Balenciaga sues set designer and production company behind the disturbing ad with child porn themes
Chimamanda Ngozi-Adichie graces the cover of Marie Claire Brazil and talks about the future of black women
Get our Top Stories delivered to your inbox