Nigerian graffiti artist gives Lagos a face lift with his "Eko Tag" mural
Dj Jimmy Jatt, Ice Prince and others celebrate visual artist, Osa Seven, who is reviving the history of Lagos and documenting current happenings in the state with his art.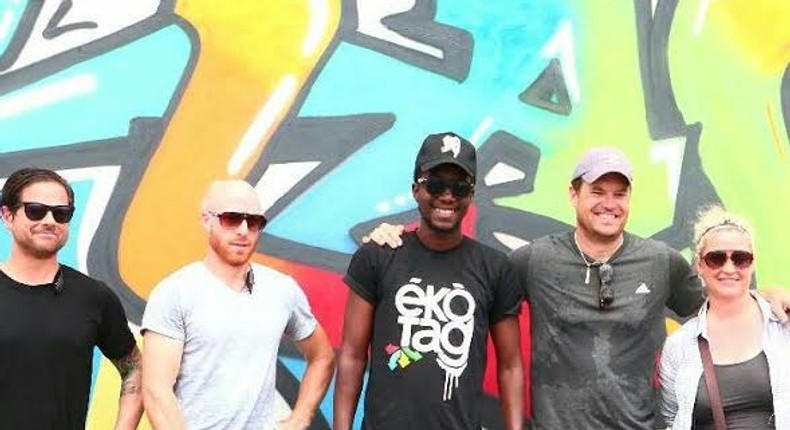 Graffiti artist, Osa Seven, is not only telling the history of Lagos with his art but also beautifying the city.
"Eko Tag" is a platform focused on revisiting the great moments of Lagos, reviving the history of Lagos and documenting the current happenings while celebrating Lagos at 50.
In the course of recent weeks, photos of a mainstream Lagos street started showing up on social media in various and vivid fine arts with the hashtag #EKOTAG. As it turns out, Lagos got a facelift and the brains behind this procedure is visual artist and graphics designer, Osa Seven.
Bystanders have been captivated by the art Osa has created at the "Eko Tag" monument situated at Law School bus stop on Ozumba Mbadiwe Road, Victoria Island, Lagos. They take to Instagram to share photographs and footages when they spot the first graffiti monument, using the hashtag #EkoTagSpotted.
The artwork, when completed, would reveal the National Art Theatre, Aro Meta (the statue of the three capped chief that welcomes commuters into Lagos via the Lagos-Ibadan expressway), graffiti tag that says "LAGOS" and installation of Keke Napep as a symbol of Lagosians always on the move.
Some of the Who's who in the entertainment and creative industries have even stopped by to experience up close this historical moment. Some of these visits have even extended to famous faces lending Osa a hand at the site and keeping him companying in the most inventive ways while he recounts our stories as Lagosians through street art.
Famous faces such as, DJ Jimmy Jatt, Reminisce, Di'JA, Ice Prince, DJ Spinall, DJ Obi, Sound Sultan, Kay Switch, Lotanna Chukwu, Jon Ogah, FALANA Music, DJ Lambo, Denrele Edun, Jane Michael-Ekanem, Aramide, DJ Lambo, Bassey Ekpeyong, Makida Moka, Vina Longpet, Chuey Chu, Ruby Gyang, EHIZ, Praiz, Sammy Naija, Hauwa Mukan, Wofai Fada, Tosin Ajibade - Olorisupergal, Ibrahim Salawu - Unilag Olodo and many more.
Amid this makeover procedure, Osa did not only inspire young visual artists and future fine artists, he serves as a beacon of hope to artists who feel their art isn't valid or can't make an outstanding career off art.
The way Osa Seven is telling our local stories to the world captured the attention of CNN International and they visited the monument to experience the historic moment and document the journey for an episode on Anthony Bourdain's 'Parts Unknown'. Osa has inspired with Eko Tag while changing the discernment and stereotypes of Graffiti/Street Art.
Osa Seven is utilizing Eko Tag to preserve the history of Lagos and communicate our stories, also ways Lagos has driven Nigerians to be clever, resourceful and aspiring. With this being the first of its kind in Nigeria, Osa Seven additionally enforces this historic moment with the support of Lagos State Government and FCMB by becoming the youngest artist in Nigeria to have an appointed landmark.
JOIN OUR PULSE COMMUNITY!
Recommended articles
From Waves to Weaves: 10×10 storms hair industry with a 9-day market activation in Lagos
This week's best celebrity pictures on Instagram
20 ways people experience unexpected orgasms
Everything you missed at the #TheMeistersExpression Concert in Ibadan
In this Ugandan tribe, the bride's aunt has s*x with the groom to test his sexual prowess
Skinny shaming: 5 things you should never say to a slim person
The importance of boundaries in relationships: Nurturing love and respect
Trace to set the African music scene ablaze with first Trace Awards & Festival in Kigali
Study shows men have been peeing wrong; they ought to sit and not stand
Denola Grey is one of the new faces of Fenty Beauty
How to survive the rising cost of petrol and transport in Nigeria
7 incredible health benefits of bitter kola