How to make ice cream cake at home - Recipe of the day
Learn how to bake this creamy, easy-to-make frozen ice cream cake at home.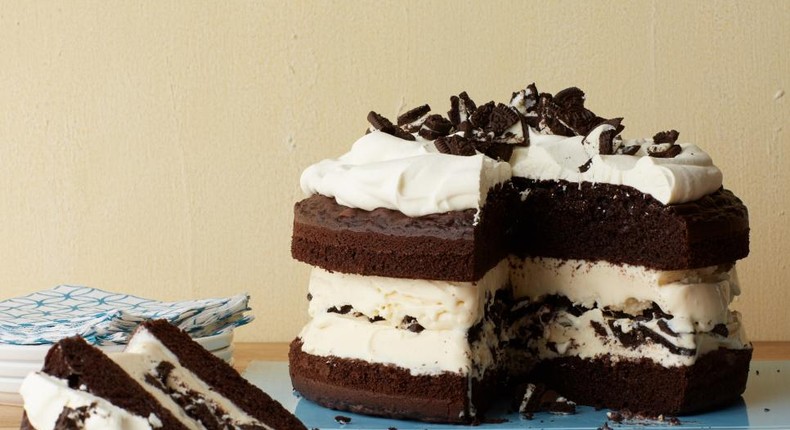 Contains about 742 calories.
Instructions
1. Remove ice cream from the freezer and defrost about 15 minutes.
2. While ice cream is softening, line two 8-inch cake pans well with plastic wrap, leaving several inches of overhang.
3. Spoon soft ice cream into each prepared pan, pressing down to remove air bubbles as you go. Cover with plastic wrap and press down evenly to smooth the top. Freeze for 8-12 hours or until hardened.
4. 1 hour before assembling cake, place serving platter into freezer.
5. Place heavy cream, sugar and vanilla into a large bowl and whip until stiff peaks form. Refrigerate.
6. Remove ice cream layers and serving platter from freezer. Unwrap the tops of the ice cream layers and using the excess plastic wrap, remove layers from pans.
7. Place chocolate layer on the bottom. Smooth an even layer of hot fudge over the chocolate layer, leaving a 1/2 inch border. Sprinkle crushed OREO thins over hot fudge and press down gently. Add vanilla layer overtop. Spread whipped cream overtop of the entire cake, add sprinkles as desired and freeze until ready to serve.
JOIN OUR PULSE COMMUNITY!
Recommended articles
Best celebrity pictures on Instagram this week
Roe v Wade overturned: The right to an abortion is no longer protected by the US constitution
A baby girl or boss babe; which are you?
A farm in Thailand feeds their poultry cannabis and breeds healthier chickens
Reekado Banks, Crayon, Blaqbonez and many more deliver night to remember at Walkers District Ibadan
This is why couples look alike after a long time together
Make-up s*x: Here is why you should have it after a fight
At what age do men and women have the best sex of their lives?
Do you know about Queen Luwoo, the first and only female Ooni of Ife?