How to make ice cream cake at home - Recipe of the day
Learn how to bake this creamy, easy-to-make frozen ice cream cake at home.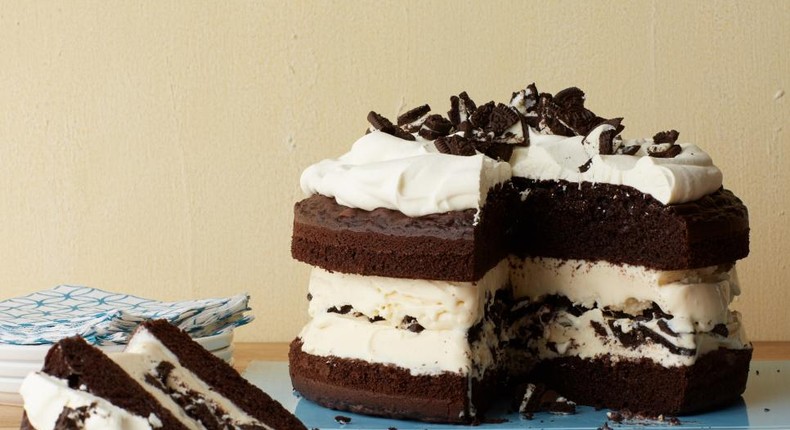 Contains about 742 calories.
Instructions
1. Remove ice cream from the freezer and defrost about 15 minutes.
2. While ice cream is softening, line two 8-inch cake pans well with plastic wrap, leaving several inches of overhang.
3. Spoon soft ice cream into each prepared pan, pressing down to remove air bubbles as you go. Cover with plastic wrap and press down evenly to smooth the top. Freeze for 8-12 hours or until hardened.
4. 1 hour before assembling cake, place serving platter into freezer.
5. Place heavy cream, sugar and vanilla into a large bowl and whip until stiff peaks form. Refrigerate.
6. Remove ice cream layers and serving platter from freezer. Unwrap the tops of the ice cream layers and using the excess plastic wrap, remove layers from pans.
7. Place chocolate layer on the bottom. Smooth an even layer of hot fudge over the chocolate layer, leaving a 1/2 inch border. Sprinkle crushed OREO thins over hot fudge and press down gently. Add vanilla layer overtop. Spread whipped cream overtop of the entire cake, add sprinkles as desired and freeze until ready to serve.
JOIN OUR PULSE COMMUNITY!
Recommended articles
Sights and sounds from Fenty's Beauty launch in Nigeria
Best celebrity pictures on Instagram this week
Did you know some men find it hard to ejaculate? Here's why that happens
5 millennials talk about what they miss about being kids
Badagry Slave Route: Slaves passed these 5 notable stops on their journey of no return
Exclusive dinner or luxurious spa date for you – Match and Go!
3 celebrity looks inspired by Rihanna's pregnancy fashion
Check out StarTimes 2022 price and never-to-miss shows
5 African dishes to celebrate Africa Day 2022