'Hissein Habré, A Chadian Tragedy' is a film every young African should see
The first time I heard of 'Hissein Habré, I was on a road trip from Benin Republic to Togo. ...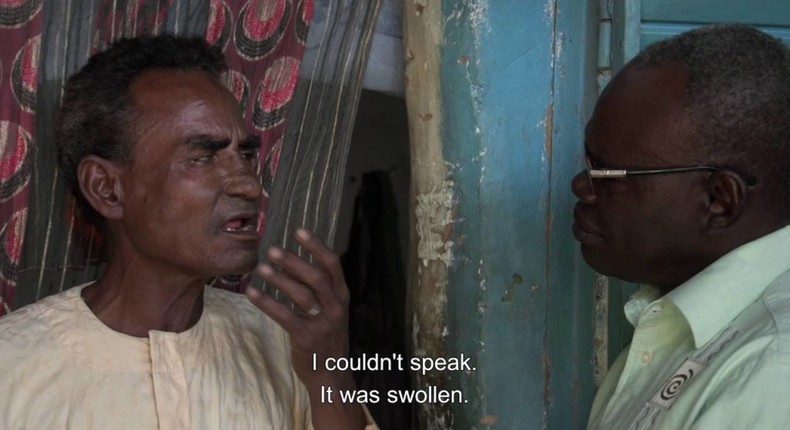 The first time I heard of
We stopped at a store in Tanguieta to change our Naira to CFA Franc when I struck a discussion with a Chadian guy about ethnoreligious conflicts in Africa.
He was curious about what was happening up North with Boko Haram, and I kept asking him about what was happening in Chad. Then Hissein Habre came up.
Habre is not known outside French-speaking Africa, I was a bit confused when he mentioned him and the atrocities he had committed. When the discussion became too sad, we moved to familiar terrain, ending with Wizkid and African beats taking over the world.
Proceeding with our journey I realize how stories of despots and tyrannical leaders has become a regular feature in our discussions as African youths.
There is no middle ground, we are either arguing about corruption, bad leadership and ethno religious conflicts or talking about Pogba's dance moves, Wizkid, Fela or sometimes Awilo Longomba classics.
The life of military coup, seizing power, torturing the innocent and killing the weak hardly ever stuns anymore. This is our reality. This is our Africa, Madagascar and Seychelles does not count.
This is why it is very important for every African youth to see this film.
Directed by Mahamat-Saleh Haroun, Hissein Habre, A Chadian Tragedy (Hissein Habre, une tragedie tchadienne in French), described in horrific detail the gripping and horrendous testimony of a handful of survivors who lived through Habre's dictatorship between 1982 and 1990.
Backed with steady logistical and tactical support from both the U.S. and France, Habre set up DSS (Documentation and Security Directorate) a system of secret police and prisons which were used to suppress, abuse and torture hundreds of thousands of political prisoners, resulting in nearly 40,000 deaths.
Thirty years later, some of the victims, who each recount their suffering in harrowing detail are unable to walk, hear, see, or speak clearly. Men who can no longer stand up on their own, who have lost limbs and teeth, women who lost their husbands and were sexually assaulted. Men and women who will forever be traumatized by the deaths they witnessed and what they suffered.
These victims describe what they went through during years of arrest, imprisonment and torture, exposing the crimes against humanity inflicted on them by their own people.
"There are no words to qualify this horror," is how one scarred man explains what happened when Habre's DSS threw him in prison for four years, where he suffered numerous types of torture and abuse, not to mention years of malnourishment.
We hear harrowing stories of legs sawed and crushed with hammers, skulls pierced with needles, eyes sprayed with insecticide, nipples pulled out with ropes. Other interviewees in this film provide grisly details about the terror brought upon them and thousands of other innocent victims.
One man says he counted 2,053 dead in Habré's jails and prayed for everyone of them. Another confesses he once wished more would die to make room in his overcrowded cell. Corpses were used as pillows.
More touching is survivor and activist Clement Abaifouta attempt to re conciliate and interview victims about what happened. The rawness and honesty of the emotions brought tears to my eyes.
The attempts at 'reconciliation' between victims and torturers reminded me of the bitterness between the Igbos and Hausa's of Nigeria. Till date, there has been no reconciliation and honest discussion among these two powerful tribes since the civil war.
Thankfully, Habré was convicted and sentenced to life in prison in May this year, in a court established and endorsed by the African Union. It was a brilliant move commended by all, this being the first time an African despot had been tried by an African court.
Habre's reign is still remembered with fear and anguish by a population that continues to suffer to this day. For the people of Chad, bringing him to justice is a major step forward; hopefully it will also send a powerful message to other African despots.
The film is a disturbing, unadorned and powerful account of struggle and survival in the face of evil.
I usually get a little choked up watching movies like this. But this one simply left me numb and too sad. Why do we inflict such evil upon ourselves?
At the end of the film screening, we were introduced to the chairman of the Association of the Victims of the Crimes of the Hissein Habré Regime and the interviewer in the documentary, Clement Abaifouta. Who came all the way from Chad to Nigeria to attend the Ake festival.
In conversation with Olaokun Soyinka at the Ake Festival, Abaifouta who leads a survivors' group in the capital N'Djamena answered questions about the documentary, bringing Habre to justice, surviving and coping after the torture and his friends who are still suffering from it all.
"The worst bit is how banal death had become," Abaïfouta says in a voice choked with tears, describing himself as a "half-man, broken both physically and mentally".
He ends with an important call to action to African youths: "What we did, we did it for young africans. Our generation sacrificed for you; you need to stand up for your rights or the same people will continue to keep power"
Wake up from your little bubble, speak for the voiceless and fight for the opressed. Abaifouta adds "Realise that everyday you are making history. It is important to take action"
Many thanks to the Ake festival team for bringing this film to Nigeria.
JOIN OUR PULSE COMMUNITY!
Recommended articles
20 ways people experience unexpected orgasms
Everything you missed at the #TheMeistersExpression Concert in Ibadan
In this Ugandan tribe, the bride's aunt has s*x with the groom to test his sexual prowess
Skinny shaming: 5 things you should never say to a slim person
The importance of boundaries in relationships: Nurturing love and respect
Trace to set the African music scene ablaze with first Trace Awards & Festival in Kigali
Study shows men have been peeing wrong; they ought to sit and not stand
Denola Grey is one of the new faces of Fenty Beauty
How to survive the rising cost of petrol and transport in Nigeria
7 incredible health benefits of bitter kola
5 most fashionable plus-size celebs in Nigeria
See the forest in Ondo where masquerades are forbidden