7 foods that cause excessive sweating
Are you tired of constantly feeling like a melting ice cream cone in Nigeria's scorching heat?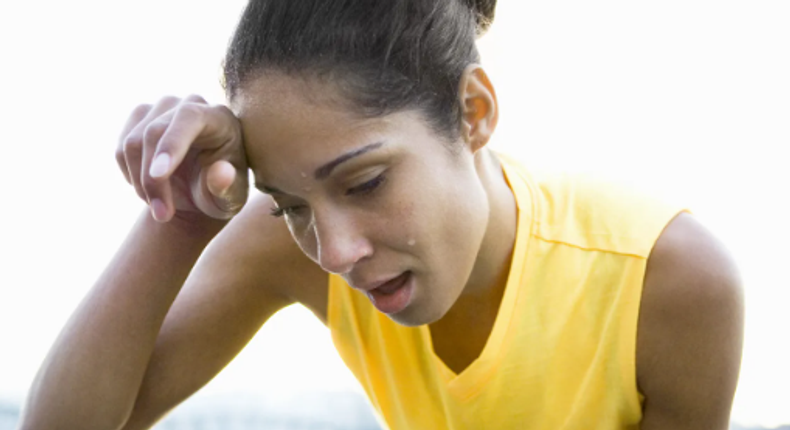 Well, you're not alone. Excessive sweating, also known as hyperhidrosis, affects many Nigerians, and it can be a real hassle.
Sweating is a natural process that helps to regulate body temperature, but excessive sweating can be a nuisance, especially in hot and humid climates like Nigeria. Surprisingly, certain foods can trigger excessive sweating, leaving you feeling uncomfortable and self-conscious.
Here are seven common foods that can cause you to sweat excessively and what you can do about it;
1) Spicy foods
We all love our jollof rice and suya, but the hot peppers used in these dishes can raise our body temperature and cause us to sweat. So, if you're planning on impressing your date with your spice tolerance, be prepared to bring a towel.
Foods to avoid when you have UTI
2) Coffee and other caffeinated beverages
That morning cup of coffee might be essential for waking up, but it also stimulates your nervous system and increases your heart rate, leading to increased sweating. Maybe opt for some herbal tea instead, like hibiscus or ginger, to still get that energy boost without sweat.
Pulse Nigeria
3) Alcohol
Alcohol is also a culprit when it comes to sweating. It dilates blood vessels and increases blood flow, leading to a rise in body temperature and more sweat. So, maybe think twice before indulging in that third bottle of beer at the bar.
Last October, Ada Yeo, principal and chief of staff at venture firm Khosla Ventures, tweeted that "not drinking" had become a new "tech status signal."—Ada Yeo (@adayeoyh) October 12, 2022Though sales of alcohol and spirits spiked in the early days of the pandemic, many tech workers now seem to be moving away from alcohol due to its impact on productivity, Bay Area therapist Annie Wright told Insider. There is a rise in "no-alcohol" parties too, Wright said. Even Marc Andreessen, the veteran venture capitalist who launched Andreessen Horowitz, admitted in a blog post last month that he stopped drinking alcohol six months ago and feels much better. Business Insider USA
4) Processed foods
Business Insider USA
Processed foods like chips and fast food, are often high in sodium, which can lead to dehydration and cause you to sweat more. So, try to choose whole foods instead and cook at home when possible.
5) Dairy products
Pulse Nigeria
Dairy products, like cheese and milk, can also contribute to excessive sweating. They contain a protein called casein, which can stimulate your sweat glands. So, maybe hold off on that cheesy pizza for a while.
6) Sugar
Mickey-shaped treats and Dole Whip are hard to say no to. But basic candy packaged in a bag with a character on it isn't.Save the gummy worms, chocolate candies, and sour bites for gas-station purchases on the way home. Business Insider USA
Foods high in sugar, like candy and soda, can cause your blood sugar levels to spike and lead to sweating. So, if you're looking for a sweet treat, maybe reach for some fruit instead.
7) Red meat
Business Insider USA
Red meat can cause your body to work harder to digest it, leading to an increase in body temperature and, you guessed it, more sweat. So, maybe try some plant-based protein options instead, like beans or eggs.
Now, you may be thinking "But these are all the foods I love!" Yes, these are common foods but maybe try cutting back on them and see if you notice a difference in your sweating. As always, it's important to listen to your body and do what's best for you.
While certain foods can trigger excessive sweating, you don't have to cut them out of your diet entirely. Moderation and understanding your body's reactions can help you manage your excessive sweating.
As the saying goes, knowledge is power, and now that you know which foods to avoid, you can make more informed decisions about what you eat.
So next time you're dining out or cooking at home, be mindful of what you're eating and remember, you're not alone in your quest to stay cool and dry in Nigeria's sweltering heat.
JOIN OUR PULSE COMMUNITY!
Recommended articles
An Ekiti chef is attempting to break Hilda Baci's cook-a-thon record by cooking for 120 hours
Get global work opportunities as an animator, register now for free
5 most powerful women in the Aláàfin of Oyo's Palace
How to spend less money on food in a terrible economy
Meet the Aka tribe where men breastfeed babies
Indigenous Nigerian brand explores the beauty and versatility of Spandex
7 odd traditions still common in Nigeria that need to change
10 best and worst snacks to satisfy your midnight cravings
3 things you can do with pineapple peels
5 ways to elevate your hairstyle with accessories
Sweden denies recognising sex as a sport
Inspiring Connections: The creative community unites at the Walkers Mix by Johnnie Walker and Sarz
'There are people in Barcelona who don't want me to return' — Messi
EXCLUSIVE: 'It is only Paul Onuachu' — Frank Onyeka reveals his Super Eagles friend
Explained: How much will Lionel Messi earn at Inter Miami in USA?
Ese Brume soars to her best mark this season at ORLEN's Cup
Romelu Lukaku gives advice on how to stop racism in football
Victor Osimhen's unprecedented Capocannoniere
Chukwueze beats two Morocco stars and Ghanaian striker to LaLiga award